Month-long Liberian

boat-people saga ends in Nigeria

News Stories, 27 June 2001
LAGOS, 27 June 2001 – A Swedish-registered ship docked at the Nigerian port of Lagos on Tuesday nearly a month after it wandered the West African seas and three countries refused asylum to its 156 mostly Liberian passengers.
The passengers, who also include Ghanians and Sierra Leoneans, disembarked from the vessel looking tired and dazed from their 26-day ordeal at sea, but were otherwise in generally good health. Some were in tears.
Aid workers provided medical treatment to three malaria-stricken women. The rest were given relief aid and transported to the Oru refugee camp, 120 km west of Lagos. There, UNHCR staff will look into their claims for asylum.
The Swedish ship captain told reporters in Lagos that the voyage started in the Liberian capital, Monrovia, on June 1. It was to head for Ghana, but was refused entry there. Benin and Togo also did not allow the vessel to dock.
On UNHCR's pleas, Nigeria allowed the passengers – 40 men, 40 women and 76 children – to disembark on humanitarian grounds.
Most of the passengers were from Lofa County and Gbanga in northern Liberia, where clashes have been reported between the Charles Taylor government and rebel forces.
More than 200,000 Liberians have fled civil conflict in Liberia over the past decade, including several thousand who have found refuge in Nigeria.
A guide to principles and practice as applied to migrants and refugees.
Liberia: Return, Reintegration, Rehabilitation and Reconstruction
Colombia's armed conflict has forced millions of people to flee their homes, including hundreds of thousands who have sought refuge in other countries in the region.
Along the border with Colombia, Panama's Darien region is a thick and inhospitable jungle accessible only by boat. Yet many Colombians have taken refuge here after fleeing the irregular armed groups who control large parts of jungle territory on the other side of the border.
Many of the families sheltering in the Darien are from Colombia's ethnic minorities – indigenous or Afro-Colombians – who have been particularly badly hit by the conflict and forcibly displaced in large numbers. In recent years, there has also been an increase in the numbers of Colombians arriving in the capital, Panama City.
There are an estimated 12,500 Colombians of concern to UNHCR in Panama, but many prefer not to make themselves known to authorities and remain in hiding. This "hidden population" is one of the biggest challenges facing UNHCR not only in Panama but also in Ecuador and Venezuela.
Liberia: Return, Reintegration, Rehabilitation and Reconstruction
Sierra Leone: Last Return Convoy from Liberia
On July 21, 2004, the final UNHCR convoy from Liberia crossed over the Mano River bridge into Sierra Leone with 286 returnees. This convoy included the last of some 280,000 refugees returning home after Sierra Leone's brutal 10-year civil war which ended in 2000. Overall, since repatriation began in 2001, UNHCR has helped some 178,000 refugees return home, with a further 92,000 returning spontaneously, without transport assistance from UNHCR.
UNHCR provided returnees with food rations and various non-food items, including jerry cans, blankets, sleeping mats, soap and agricultural tools in order to help them establish their new lives in communities of origin. To promote integration of newly arrived returnees, UNHCR has implemented some 1,000 community empowerment projects nationwide. Programmes include the building and rehabilitation of schools, clinics, water and sanitation facilities, as well as micro-credit schemes and skills training.
UNHCR and its partners, alongside the UN country team and the government, will continue to assist the reintegration of returnees through the end of 2005.
Sierra Leone: Last Return Convoy from Liberia
Refugees move to new camp in Liberia
UNHCR has begun transferring refugees from Côte d'Ivoire to a new refugee camp in the north-eastern Liberian town of Bahn. Over the coming weeks UNHCR hopes to move up to 15,000 refugees into the facility, which has been carved out of the jungle. They are among almost 40,000 civilians from Côte d'Ivoire who have fled to escape mounting political tension in their country since the presidential election in late November.
The final number of people to move to Bahn will depend on how many wish to be relocated.from villages near the Liberia-Côte d'Ivoire border. Initially most of the refugees were taken in by host communities, living side-by-side with locals. Poor road conditions made it difficult for humanitarian agencies to deliver assistance. Supplies of food, medicine and water have been running low, making conditions difficult for both locals and refugees.
At the camp in Bahn, refugees will have easy access to basic services such as health care, clean water and primary school education.
Refugees move to new camp in Liberia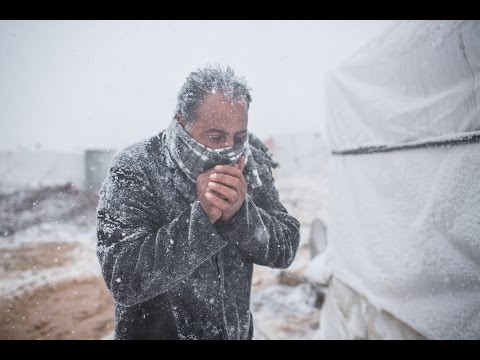 Lebanon: Winter Snowstorm
A massive snowstorm, dubbed Alexa, has brought freezing temperatures, fierce winds, rain and snow to the Middle East. Lebanon's Bekaa Valley has been hard hit, with hundreds of refugees struggling to stay warm and dry in their tents or makeshift shelters.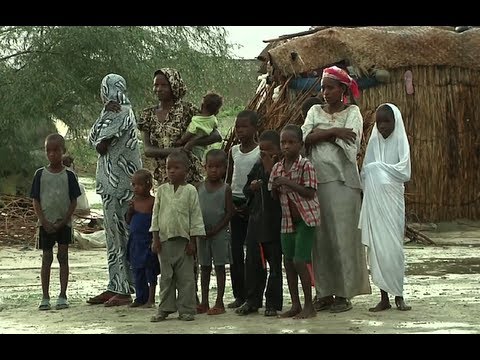 Niger: Flight from Nigeria
People escaping the fighting between the Nigerian army and Boko Haram rebels get a friendly welcome in Niger.