Refugees return

home to Tanzania's Pemba island

News Stories, 26 September 2001
DAR ES SALAAM, Sept. 26 (UNHCR) – A group of 90 refugees from Tanzania's Pemba and Zanzibar islands flew home on September 26 from Dadaab refugee camp in Kenya, the first large group to return home since May. The refugees flew home aboard a UNHCR-chartered plane, after receiving a US$50 grant each to help them with basic needs on arrival.
The group was among more than 2,000 people who fled Pemba and Zanzibar for nearby Kenya in the wake of violent clashes, on 27 January 2001, between supporters of the opposition Civic United Front and Tanzanian security forces. The clashes left several people dead and scores of others injured. Fearing reprisals in the days that followed, the refugees fled by sea in fishing boats and dhows to the Kenyan coastal town of Shimoni, some 40 miles away.
In May, 2001, UNHCR helped 667 of the refugees sail home from Shimoni, following assurances from the government of Tanzania that they would not be prosecuted as a group for their involvement in the demonstrations. Other refugees have returned home on their own. Those who did not want to go back were transferred from the temporary site in Shimoni to Dadaab camp in north-eastern Kenya.
Since the return operation in May, only a few individuals have requested help back to the islands. But the number asking for transport assistance has increased recently, leading to the September 26 flight. If the trend in repatriation requests continues, UNHCR plans to schedule regular direct flights from Dadaab, which still houses some 260 Tanzanian refugees.
UNHCR has maintained a full-time presence on Pemba island since returns began, and staff there say that the situation is stable and that returnees have not been harassed or arrested. UNHCR is working closely with the government, the opposition Civic United Front and returnee families on the island.
UNHCR country pages
Somali Bantu refugees gaining citizenship in Tanzania
Dadaab: World's Biggest Refugee Camp Turns 20
Last year, 2011, was the 20th anniversary of the world's biggest refugee camp - Dadaab in north-eastern Kenya. The anniversary is a reminder of the suffering of the Somali people, who have been seeking safety and shelter for two decades. UNHCR, which manages the Dadaab complex, set up the first camps there between October 1991 and June 1992. This followed a civil war in Somalia that in 1991 had culminated in the fall of Mogadishu and overthrow of the Siad Barre regime.
The original intention was for the three Dadaab camps to host up to 90,000 people. However today they host more than 463,000 people, including some 10,000 third-generation refugees born in Dadaab to parents who were also born there.
Last year's famine in Somalia saw more than 150,000 new arrivals, a third of the camp's current population. Overcrowding and stretched resources as well as security concerns have all had an impact on the camp, but UNHCR continues to provide life-saving assistance.
Dadaab: World's Biggest Refugee Camp Turns 20
Dire Times in Dadaab
Angelina Jolie's visit to Dadaab in north-east Kenya puts a spotlight on the overcrowded camp complex, home to tens of thousands of refugees.
When UNHCR Goodwill Ambassador Angelina Jolie visited Dadaab in north-east Kenya on September 12, 2009, she saw first-hand some of the tough conditions that tens of thousands of refugees must live in. The overcrowded three-camp complex is home to more than 285,000 mainly Somali refugees, making it the largest refugee settlement in the world. The camps were established in the early 1990s and were intended for a maximum of 90,000 people. Up to 7,000 people are now arriving every month to escape continuing conflict in Somalia. Jolie talked to residents about their daily life and their exile. These images show her meetings with the refugees of Dadaab and show some of the conditions they live in. Aside from overcrowding, they face water shortages, crammed classrooms, health problems, the coming rainy season and a range of other difficulties. UNHCR hopes new land will be allocated soon for the new arrivals.
Dire Times in Dadaab
Flood Airdrop in Kenya
Over the weekend, UNHCR with the help of the US military began an emergency airdrop of some 200 tonnes of relief supplies for thousands of refugees badly hit by massive flooding in the Dadaab refugee camps in northern Kenya.
In a spectacular sight, 16 tonnes of plastic sheeting, mosquito nets, tents and blankets, were dropped on each run from the C-130 transport plane onto a site cleared of animals and people. Refugees loaded the supplies on trucks to take to the camps.
Dadaab, a three-camp complex hosting some 160,000 refugees, mainly from Somalia, has been cut off from the world for a month by heavy rains that washed away the road connecting the remote camps to the Kenyan capital, Nairobi. Air transport is the only way to get supplies into the camps.
UNHCR has moved 7,000 refugees from Ifo camp, worst affected by the flooding, to Hagadera camp, some 20 km away. A further 7,000 refugees have been moved to higher ground at a new site, called Ifo 2.
Posted in December 2006
Flood Airdrop in Kenya
Tanzania: Setting Sail to Safety
More than 60,000 Burundian refugees have arrived in Tanzania since the beginning of May. On the shores of Lake Tanganyika, hundreds board a ferry to Kigoma, Tanzania, before continuing to Nyaragusu camp.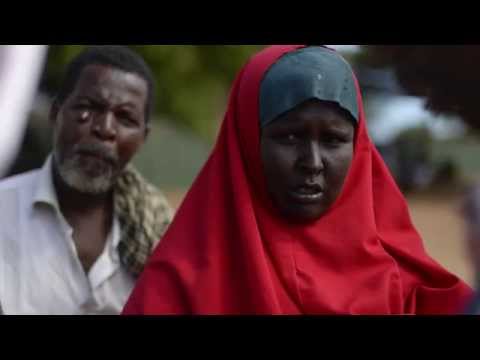 Kenya: High Commissioner Visits Dadaab Refugee Camp
Last week the UN High Commissioner for Refugees, António Guterres completed a visit to Kenya and Somalia where he met with the Presidents of the two countries, as well as Somali refugees and returnees.