UNHCR applauds

Germany's proposal to modify immigration law

News Stories, 9 November 2001
GENEVA, Nov. 9 (UNHCR) – The U.N. refugee agency Friday "warmly welcomed" the German government's decision to introduce a new immigration law making it possible for people persecuted by "non-state agents" such as rebels or militias to obtain protection under the 1951 refugee Convention.
The agency said that even a person who had visibly suffered extreme torture or been raped would not be considered a refugee in six European countries that excluded victims of non-state agent of persecution from refugee status if the torturer was not acting on behalf of the officially recognized government.
By the mid-1990s five countries in addition to Germany – France, Italy, Norway, Sweden, and Switzerland – were not granting refugee status to victims of persecution by agents not officially connected to any recognized government.
"Refugees coming from countries that have no functioning government, or whose government does not control the whole territory, were unable to receive refugee status even if they could prove persecution beyond all reasonable doubt," UNHCR said. In recent years these included Liberia, Somalia, Angola and Taliban-held areas of Afghanistan.
"UNHCR warmly welcomes the proposed change, which would bring an end to one of the most damaging anomalies in legislative practice in Europe," the agency statement said. "The proposed change to the law would bring Germany into line with virtually all other states that have signed the 1951 Convention."
The idea that victims of a so-called non-state agent of persecution could be excluded from refugee status found its way into the legal practice of several European countries in the years following adoption of the Convention.
Sweden and Norway formally changed their regulations in the late 1990s, while Italy and France have gradually adjusted their practice to include victims of non-state agent persecution. Switzerland has said it is considering a change in its legislation.
"UNHCR's position, and that of virtually all states outside of Europe, has always been that under the 1951 Convention, the key factor in a refugee claim is the risk of persecution, not the identity of the persecutor," UNHCR said.
UNHCR country pages
UNHCR advocates fair and efficient procedures for asylum-seekers
All in the same boat: The challenges of mixed migration around the world.
Numbers are important in the aid business and UNHCR's statisticians monitor them daily.
Zero-Star "Hotel" that Asylum-Seekers Call Home in Dijon
France is one of the main destinations for asylum-seekers in Europe, with some 55,000 new asylum applications in 2012. As a result of the growing number of applicants, many French cities are facing an acute shortage of accommodation for asylum-seekers.
The government is trying to address the problem and, in February 2013, announced the creation of 4,000 additional places in state-run reception centres for asylum-seekers. But many asylum-seekers are still forced to sleep rough or to occupy empty buildings. One such building, dubbed the "Refugee Hotel" by its transient population, lies on the outskirts of the eastern city of Dijon. It illustrates the critical accommodation situation.
The former meat-packing plant is home to about 100 asylum-seekers, mostly from Chad, Mali and Somalia, but also from Georgia, Kosovo and other Eastern European countries. Most are single men, but there are also two families.
In this dank, rat-infested empty building, the pipes leak and the electricity supply is sporadic. There is only one lavatory, two taps with running water, no bathing facilities and no kitchen. The asylum-seekers sleep in the former cold-storage rooms. The authorities have tried to close the squat several times. These images, taken by British photographer Jason Tanner, show the desperate state of the building and depict the people who call it home.
Zero-Star "Hotel" that Asylum-Seekers Call Home in Dijon
Abdu finds his voice in Germany
When bombs started raining down on Aleppo, Syria, in 2012, the Khawan family had to flee. According to Ahmad, the husband of Najwa and father of their two children, the town was in ruins within 24 hours.
The family fled to Lebanon where they shared a small flat with Ahmad's two brothers and sisters and their children. Ahmad found sporadic work which kept them going, but he knew that in Lebanon his six-year-old son, Abdu, who was born deaf, would have little chance for help.
The family was accepted by Germany's Humanitarian Assistance Programme and resettled into the small central German town of Wächtersbach, near Frankfurt am Main. Nestled in a valley between two mountain ranges and a forest, the village has an idyllic feel.
A year on, Abdu has undergone cochlear implant surgery for the second time. He now sports two new hearing aids which, when worn together, allow him to hear 90 per cent. He has also joined a regular nursery class, where he is learning for the first time to speak - German in school and now Arabic at home. Ahmed is likewise studying German in a nearby village, and in two months he will graduate with a language certificate and start looking for work. He says that he is proud at how quickly Abdu is learning and integrating.
Abdu finds his voice in Germany
Through the Clouds to Germany: One Syrian Family's Journey
On Wednesday, Germany launched a humanitarian programme to provide temporary shelter and safety to up to 5,000 of the most vulnerable Syrian refugees in neighbouring countries. A first group of 107 flew to Hanover in the northern city of Hanover. They will attend cultural orientation courses to prepare them for life over the next two years in Germany, where they will be able to work, study and access basic services. Among the group are Ahmad and his family, including a son who is deaf and needs constant care that was not available in Lebanon. The family fled from Syria in late 2012 after life became too dangerous and too costly in the city of Aleppo, where Ahmad sold car spare parts. Photographer Elena Dorfman followed the family in Beirut as they prepared to depart for the airport and their journey to Germany.
Through the Clouds to Germany: One Syrian Family's Journey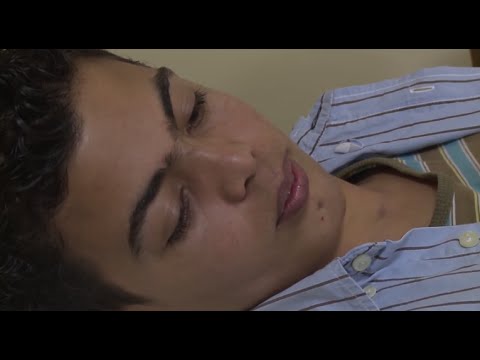 Germany: New Hope in Keil
Teenage refugee Abdullah was resettled in Germany, where he was finally able to get the life-saving medical help he needed to treat a blood disorder.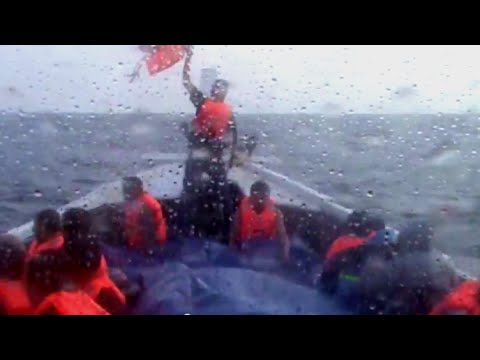 UNHCR: Looking for Safe Shores
2014 has been a record year for movements by sea with desperate people take terrifying risks for the slimmest chance to reach safer lands.