Guterres to

meet Lula da Silva on first visit to Latin America

News Stories, 3 November 2005
GENEVA, November 3 (UNHCR) – The UN High Commissioner for Refugees, António Guterres, is going to Brazil next week for a two-day visit, his first to Latin America since he took office in June. He is scheduled to meet with President Luís Inácio Lula da Silva on Monday and will be seeking support for the Mexico Plan of Action, a regional initiative to help refugees and internally displaced people.
Brazil has been closely involved in UNHCR's work since the agency was created in 1950, and a decade later became one of the first countries in Latin America to sign the 1951 Refugee Convention. It was also the first country in the region to pass a national refugee law in 1997. Last year, it played an important role in the adoption by 20 Latin American nations of the Mexico Plan of Action.
"Brazil plays a leading role in the world today, not only economically but also politically, as can be seen today in Haiti for example, where Brazil is heading the UN Peacekeeping troops," High Commissioner Guterres said before his departure. "I am looking forward to a close partnership, so Brazil can help us address the root causes of displacement and exile, not only in Latin America but also in a wider context."
The biggest challenge UNHCR faces in Latin America today arises from the 40-year-old armed conflict in Colombia. At least two million people have been forcibly displaced within the country's borders, while hundreds of thousands of Colombians have fled to other countries. This unrelenting flow of people is putting pressure on neighbouring countries – especially Ecuador, Costa Rica, Venezuela and Panama – and threatens to endanger regional stability.
In order to relieve some of the pressure, the Mexico Plan of Action has set up a regional resettlement programme to encourage other Latin American states to receive some of the refugees currently living in one or other of Colombia's immediate neighbours. The initiative was spearheaded by Brazil, which has been running its own resettlement programme for several years.
Carla and Javier are two of the Colombian refugees to have benefited from Brazil's generosity. The couple arrived in November 2004 with their two young sons after a long and traumatic journey that took them first from one city to the next in Colombia, then to Ecuador and finally to the São Paulo neighbourhood where they live today.
Javier, a professional in marketing, began to receive death threats from one of Colombia's irregular armed groups in 2003. Fearing for his children and his wife's safety, he immediately moved his family to another city. But his presence there became known, and the threats continued. Soon afterwards, he fled to Ecuador. Even there, he did not feel safe. He says his persecutors followed him across the border and that he still feared for his life.
"We became absolutely desperate," he says. "We had lost everything and we had no idea where else to go. Then UNHCR told us they would help us to find another country. Brazil was the quickest to say yes."
At first, the family did not know what to expect – Brazil was unknown territory to them, further away from home than they had ever been. Still, there was no choice. All they wanted was a safe place to live and bring up their children. In November of last year, they arrived in São Paulo.
"I really did not expect the welcome that we got," says Carla. "From the very start, people who did not know us at all were offering us eggs and milk, sometimes fish and chicken. They even gave us a nice new blanket for the winter."
In the past four years, some 200 refugees, most of them Colombians, have found a new home in Brazil. In total, there are some 3,000 registered refugees in the country, about half of whom are from outside the region.
During his visit, the UN High Commissioner for Refugees will also meet with the Minister of Foreign Affairs and the Minister of Justice, as well as with church representatives and officials of GRULAC, the Group of Latin American and Caribbean countries.
António Guterres, who joined UNHCR on June 15, 2005, is the UN refugee agency's 10th High Commissioner.
Colombia: Life in the Barrios
After more than forty years of internal armed conflict, Colombia has one of the largest populations of internally displaced persons (IDPs) in the world. Well over two million people have been forced to flee their homes; many of them have left remote rural areas to take refuge in the relative safety of the cities.
Displaced families often end up living in slum areas on the outskirts of the big cities, where they lack even the most basic services. Just outside Bogota, tens of thousands of displaced people live in the shantytowns of Altos de Cazuca and Altos de Florida, with little access to health, education or decent housing. Security is a problem too, with irregular armed groups and gangs controlling the shantytowns, often targeting young people.
UNHCR is working with the authorities in ten locations across Colombia to ensure that the rights of internally displaced people are fully respected – including the rights to basic services, health and education, as well as security.
Colombia: Life in the Barrios
Indigenous people in Colombia
There are about a million indigenous people in Colombia. They belong to 80 different groups and make up one of the world's most diverse indigenous heritages. But the internal armed conflict is taking its toll on them.
Like many Colombians, indigenous people often have no choice but to flee their lands to escape violence. Forced displacement is especially tragic for them because they have extremely strong links to their ancestral lands. Often their economic, social and cultural survival depends on keeping these links alive.
According to Colombia's national indigenous association ONIC, 18 of the smaller groups are at risk of disappearing. UNHCR is working with them to support their struggle to stay on their territories or to rebuild their lives when they are forced to flee.
UNHCR also assists indigenous refugees in neighbouring countries like Panama, Ecuador, Venezuela and Brazil. UNHCR is developing a regional strategy to better address the specific needs of indigenous people during exile.
Indigenous people in Colombia
Panama's Hidden Refugees
Colombia's armed conflict has forced millions of people to flee their homes, including hundreds of thousands who have sought refuge in other countries in the region.
Along the border with Colombia, Panama's Darien region is a thick and inhospitable jungle accessible only by boat. Yet many Colombians have taken refuge here after fleeing the irregular armed groups who control large parts of jungle territory on the other side of the border.
Many of the families sheltering in the Darien are from Colombia's ethnic minorities – indigenous or Afro-Colombians – who have been particularly badly hit by the conflict and forcibly displaced in large numbers. In recent years, there has also been an increase in the numbers of Colombians arriving in the capital, Panama City.
There are an estimated 12,500 Colombians of concern to UNHCR in Panama, but many prefer not to make themselves known to authorities and remain in hiding. This "hidden population" is one of the biggest challenges facing UNHCR not only in Panama but also in Ecuador and Venezuela.
Panama's Hidden Refugees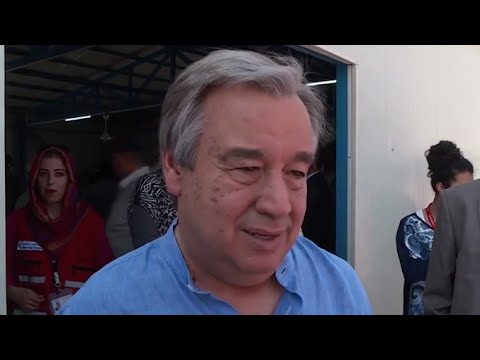 Iraq: High Commissioner visits Arbat camp
Concluding a visit to Iraq, UNHCR chief António Guterres met with Syrian refugees in Arbat camp in the Kurdistan region. Guterres noted the recent proliferation of humanitarian crises, but urged the international community not to forget about Syria, "the mega protracted crisis of our times."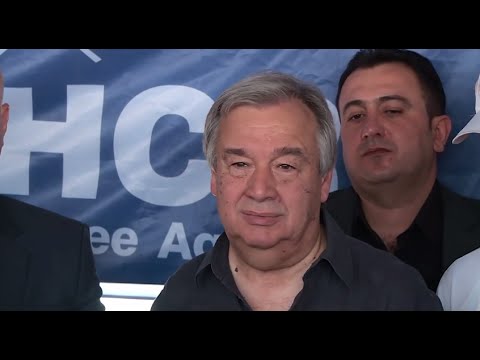 Iraq: High Commissioner visits displaced Iraqis
This week UN High Commissioner for Refugees António Guterres is visiting Iraq to meet with families displaced by conflict in recent weeks. After listening to accounts of their difficult journeys to safety, Guterres called for more support to help deal with the crisis. He will also visit some of the 300,000 Syrian refugees currently living in camps in northern Iraq.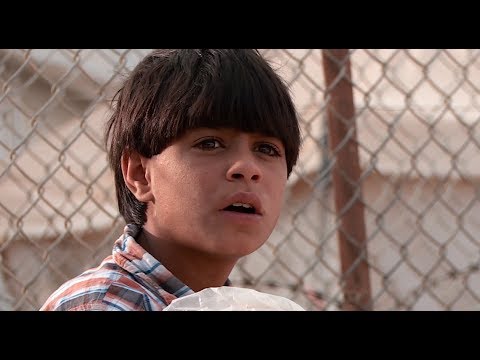 Jordan: UNHCR and Host Countries Discuss Syria
UN High Commissioner for Refugees António Guterres meets in Jordan's Za'atari refugee camp with leaders of countries hosting Syrian refugees in the region. He again urged the international community to do more to help these countries shoulder the burden.