National Activity

Plan 2006: Switzerland and Liechtenstein

World Refugee Day, 20 June 2006
To increase the level of knowledge in the population concerning refugee's specific issues, a game « passage » made in collaboration with Schweizerische flüchtlingshilfe training team will be played in schools. (Liechtenstein).
A blue floodlight will be lit on the House of Government. (Liechtenstein).
Geneva's jet d'eau will be coloured in blue. Moreover, blue banners mentioning the day and flags on the Mt-Blanc Bridge in Geneva will be placed. Several buildings will also be illuminated in blue in Switzerland. (Switzerland).
To sensitize the population on refugee's issues, UNHCR spots will be visible in the Swiss railway stations and "Hope" posters and leaflets will be distributed by NGOs. (Switzerland).
UNHCR country pages
2014 UNHCR Nansen Refugee Award
UN High Commissioner for Refugees António Guterres presented the Colombian women's rights group, Butterflies with New Wings Building a Future, with the prestigious Nansen Refugee Award in Geneva, Switzerland, on Monday night.
The volunteer members of Butterflies risk their lives each day to help survivors of forced displacement and sexual abuse in the Pacific Coast city of Buenaventura. This city has some of the highest rates of violence and displacement due to escalating rivalries between illegal armed groups.
Drawing on only the most modest of resources, volunteers cautiously move through the most dangerous neighbourhoods to help women access medical care and report crimes. This work, deep inside the communities, helps them reach the most vulnerable women, but also brings with it danger and threats from the illegal armed groups.
The Award ceremony, in its 60th year, was held in Geneva's Bâtiment des Forces Motrices, and featured musical performances by UNHCR supporters, Swedish-Lebanese singer-songwriter Maher Zain and Malian singer-songwriter Rokia Traoré. The Mexican acoustic guitar duo Rodrigo y Gabriela also performed at the ceremony.
2014 UNHCR Nansen Refugee Award
2013 UNHCR Nansen Refugee Award
UN High Commissioner for Refugees António Guterres presented Sister Angélique Namaika of the Democratic Republic of the Congo (DRC) with the prestigious Nansen Refugee Award at a gala ceremony in Geneva on Monday night.
Sister Angélique, through her Centre for Reintegration and Development, has helped transform the lives of more than 2,000 women and girls who had been forced from their homes and abused by fighters of the Lord's Resistance Army (LRA) or other armed groups. Many of those she helps suffered abduction, forced labour, beatings, murder, rape or other human rights abuses.
The Roman Catholic nun helps survivors to heal by offering them the chance to learn a trade, start a small business or go to school. Testimonies from these women show the remarkable effect she has had on helping turn around their lives, with many affectionately calling her "mother."
The Award ceremony featured a keynote speech from best-selling author Paulo Coelho and musical performances by singer-songwriter Dido, Malaysian singer-songwriter Yuna and Grammy-nominated Malian musicians, Amadou and Mariam.
2013 UNHCR Nansen Refugee Award
Nansen Refugee Award Presentation Ceremony
More than 400 people attended the annual presentation in Geneva in October 1, 2012 of UNHCR's Nansen Refugee Award. This year's inspirational winner from Somalia, Hawa Aden Mohamed, was unable to attend for health reasons, but she sent a video message. In the former refugee's absence, UN High Commissioner for Refugees António Guterres presented the award and Nansen medal to her sister, Shukri Aden Mohamed.
The 63-year-old humanitarian, educator and women's rights advocate, widely known as "Mama" Hawa, was honoured for her extraordinary service - under extremely difficult conditions - on behalf of refugees and the internally displaced, mainly women and girls but also including boys.
Above all she has been recognized for her work - as founder and director of the Galkayo Education Centre for Peace and Development in Somalia's Puntland region - in helping to empower thousands of displaced Somali women and girls, many of whom are victims of rape. The centre provides secondary education as well as life skills training.
The packed event also included an address by Liberian peace activist Leymah Gbowee, co-winner of last year's Nobel Peace Prize, and a video tribute to Mama Hawa as well as performances from UNHCR Honorary Lifetime Goodwill Ambassador and classical singer, Barbara Hendricks, and up and coming Swiss musician Bastian Baker.
Nansen Refugee Award Presentation Ceremony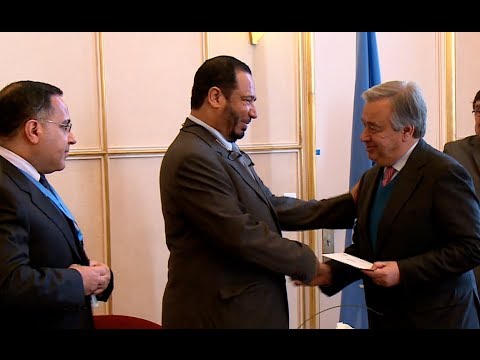 Switzerland: Kuwait Donates US$ 100 Million to the Syria Crisis
The United Nations High Commissioner for Refugees welcomes the State of Kuwait's contribution of US$ 100 million to support UNHCR operations aiding Syrians.