World Refugee

Day 2007 National Activities: Hungary

World Refugee Day, 20 June 2007
A month-long billboard and print media campaign with positive messages about refugee integration was launched. The main message used for the campaign was: "Pay Attention to Refugees – There's a Lot They Can Offer."
UNHCR country pages
Looking Back: When Hungary's Borders with Austria Opened for East Germans
It's not often that a single sentence can send a photographer rushing into action, but Hungarian photographer Barnabas Szabo did not have to hear more than that of then-Hungarian Foreign Minister Guyla Horn's televised announcement 25 years ago - September 10, 1989 - that at midnight Hungary would open its border with Austria and let East German refugees leave the country. "After the very first sentence I jumped up, took my camera, ran to my old Trabant and set off for the border," he recalled. The effect of Hungary's momentous decision was freedom for tens of thousands of East Germans who had been streaming into Hungary since May. At first they found refuge in the West German embassy, but as numbers grew, refugee camps were set up in Budapest and on the shores of Lake Balaton. The collapse of the Berlin Wall followed less than two months later. Communism was swept from Eastern Europe by the end of 1989. Another Hungarian photographer, Tamas Szigeti, who visited the abandoned refugee camp at Csilleberc the following day, recorded the haste in which people departed, leaving clothes, toys and even half-cooked dinners. No matter how uncertain the new life beckoning to them, the East Germans were clearly ready to leave fear and the Communist dictatorship behind forever.
Looking Back: When Hungary's Borders with Austria Opened for East Germans
Hungarian Crisis - 50th Anniversary
The spontaneous Hungarian uprising began on 23 October 1956. Two weeks later, the revolution was crushed by a Soviet military intervention, and by early 1957, 200,000 people had fled as refugees - 180,000 to Austria and 20,000 to Yugoslavia.
Hundreds of volunteers worked alongside international and local aid organizations to provide shelter and food, as the Austrians and the international community provided the refugees with an unprecedented level of support.
UNHCR was made 'Lead Agency' and, along with the Red Cross and ICEM, helped coordinate protection, assistance and a quite extraordinary resettlement programme.
Within two years, more than 180,000 Hungarians were resettled to 37 countries spanning five continents. The US, Canada, the UK, West Germany, Australia, Switzerland, France, Sweden and Belgium each accepted more than 5,000 refugees. Italy, the Netherlands, Israel, Brazil, Norway, Denmark, South Africa, New Zealand and Argentina all took over 1,000. The rest were spread around a further 19 countries ranging from the Dominican Republic to Turkey. Some Hungarians were integrated in Austria (8,000) and Yugoslavia (700), while 11,000 returned home voluntarily.
More in Refugees Magazine Issue N° 144: Where Are They Now? The Hungarian Refugees, 50 Years On (published October 2006) here
Hungarian Crisis - 50th Anniversary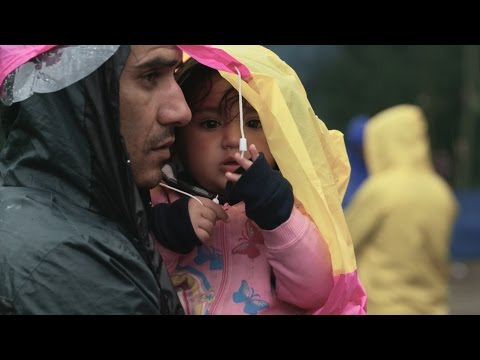 Hungary: Beginning to Help
Refugees and migrants continue to arrive from Serbia into Hungary in by the thousands. But now, thanks to requests from the Hungarian government,UNHCR is helping in bringing order and more speed to dealing with the newcomers.