Displaced Sudanese finds comfort and hope in gardening
Mukhtar Ahmed smiles proudly as he stands in the middle of a lush, green garden. The 47-year-old Sudanese looks content with the thriving greenery around him that he tends to carefully every day.
He works as a gardener at UNHCR, the UN Refugee Agency's compound in El Geneina, in Sudan's West Darfur state. He got the job just in time, after his contracts with UNAMID – the previous UN mission in Darfur – and War Child, ended.
"I never received any special gardener training. I just happen to know a lot about plants since I was a child," he says with a smile.
Working here has been refreshing for Mukhtar who has spent years living in uncertainty due to the recurrent bursts of violence and fighting in West Darfur, causing him to be displaced thrice in the last 20 years.
"A lush green garden can offer peace of mind and a welcome relief during turbulent times."
Currently living in a site for internally displaced people (IDPs) in El Geneina, the father of 12 was first displaced in 2000, when conflict drove him from his home in Kuka village, east of El Geneina, to Chad.
They returned to Sudan in 2001 and settled in Zahawa village in West Darfur, where Mukhtar started teaching in an elementary school. In 2004, his family was displaced again after the conflict in Darfur erupted, this time to Krinding IDP camp in El Geneina.
"I struggled to find a job because there were none," he recalls. "I didn't complete my university as I didn't have money for fees and this made the search for work even harder."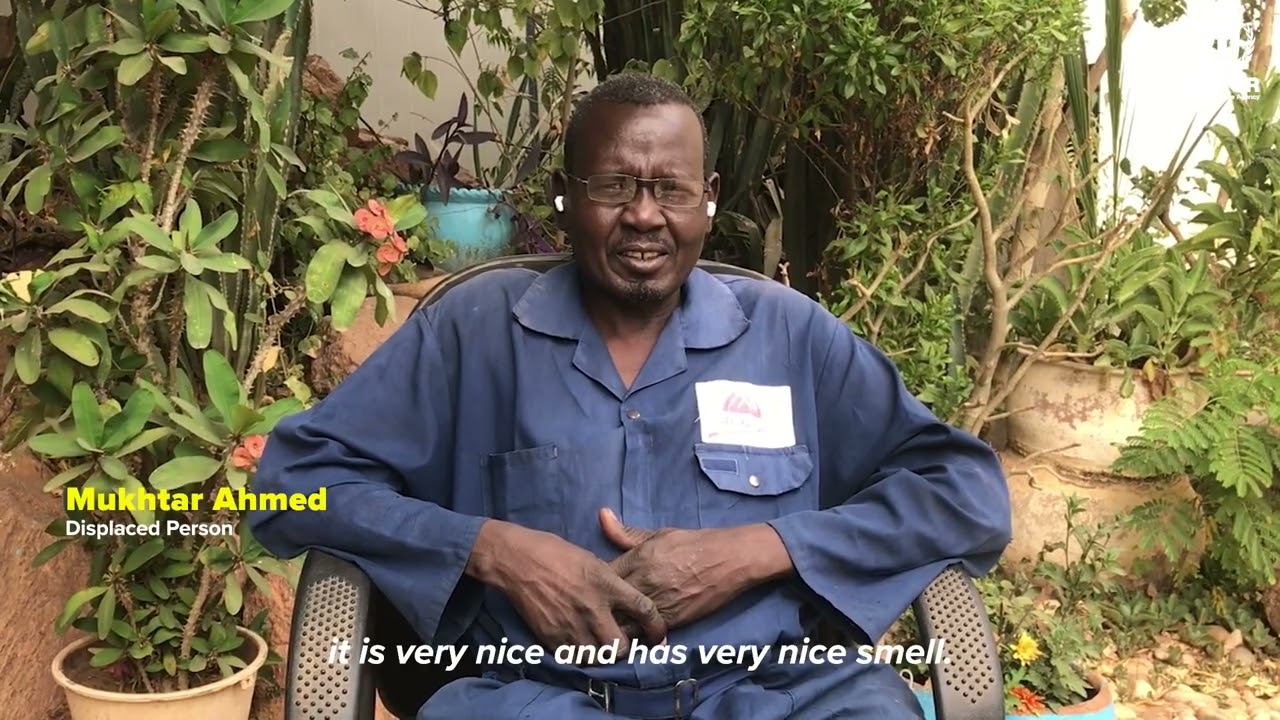 Sudan Gardener
He found odd jobs now and then, even working as a translator for a BBC film crew at one point. He later found work with various NGOs in the State such as HelpAge International, War Child and UNAMID, working as a community worker and a field officer in Azernei and Jebel Moon localities.
After his contracts ended, he returned to El Geneina, unemployed. Unfortunately, Krinding IDP site was attacked by armed men in January this year, forcing Mukhtar and his family to flee to the relative safety of the urban center in El Geneina, seeking refuge in schools, government offices and other places.
Their current stay in the State's Youth Ministry IDP center is barely ideal as the centre is congested and the security situation in the area remains precarious.
"The situation is unpredictable, but people are trying to cope and live as normally as possible," he says, adding that the community has established an IDP committee, with Mukhtar as its secretary.
Sudan hosts about 3 million IDPs, majority of them concentrated in the five Darfur States. West Darfur has particularly witnessed recurrent sparks of intercommunal violence since the start of the year, displacing about 300,000 people across 40 different locations. According to IOM's latest data, there are over 115,000 displaced people in nearly 100 temporary sites in public buildings such as schools in El Geneina town and its outskirts.
Together with the local authorities and partners, UNHCR is prioritizing security and peacebuilding efforts to prevent further tensions among communities and to avoid violence hampering projects. As a fragile calm return, around 1000 families have gone back to Krinding and more are ready to return, once they receive the necessary support.
Mukhtar is hopeful that things will get better and that his children, including himself, will be able to return to school.
"It's not too late for me. I wish for a chance to finish university. I believe that educated communities can find a way to settle their differences and live in harmony. This is the way to move our country forward."
For now, he finds solace in his gardening.
"Jasmine is my favorite plant, with its delicate fragrance and elegant white and yellow flowers," he says. "I feel that a lush green garden can offer you peace of mind and a welcome relief during turbulent times."