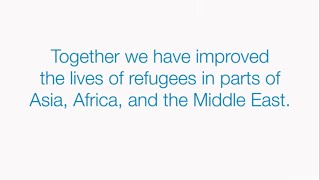 Cause-related marketing campaigns are good for UNHCR and the refugees we support, as well as for businesses. They can help raise awareness of the refugee cause, boost funds and reach new supporters.
Through cause-related marketing initiatives, companies can target customers interested in making a difference for the refugee cause and associate their brands to a global and respected United Nations' organization.
A recent example of this is IKEA's Brighter Lives for Refugees campaign. For every LED light and bulb sold in participating IKEA stores and online, EUR 1 was donated to UNHCR. In total, the campaign raised EUR 30.8 million, helping us improve access to lighting, renewable energy and primary education in refugee camps across Asia, Africa and the Middle East.