Kuwait gives US$121 million to help fund UNHCR's Syria crisis response
For the third year running, Kuwait has donated generously to the UN refugee agency's operations aimed at easing the suffering of Syria's forcibly displaced.
GENEVA, June 12 (UNHCR) - Kuwait has given US$121 million to the UN refugee agency to assist its efforts in dealing with the dire humanitarian situation resulting from the long crisis in Syria.
UN High Commissioner for Refugees António Guterres warmly thanked and praised the ruler, government and people of Kuwait when he received a cheque for the amount from UN Humanitarian Envoy for Kuwait Abdullah Al Matouq in the UN's Palais des Nations on Thursday evening in Geneva.
"It is fitting that as the Holy month of Ramadan approaches, this gesture illustrates the humanitarian and caring spirit of the true tradition of Islam," Guterres told Al-Matouq, who is also an adviser to Emir of Kuwait, Sheikh Sabah Al-Ahmed Al-Jaber Al-Sabah.
The High Commissioner said the funds would ease the suffering of the Syrian people and help meet the needs of the 3.9 million Syrian refugees in Turkey, Lebanon, Jordan, Iraq and Egypt. The money will be used in many sectors.
Guterres said the Kuwaiti gesture served as an example to others, particularly those who sought to "distort" the real values of Islam. The funds handed out to UNHCR and other organizations on Thursday were pledged by Kuwait at an international conference in Kuwait City on March 31.
Al Matouq told the Geneva ceremony the Kuwait donation was aimed at "putting an end to the pains and tears shed thus far, giving hope to every child, drawing a smile on the face of every orphan and responding to the call for relief of the elderly, widows and women who lost their children and loved ones."
The Syrian conflict has entered its fifth year with millions of refugees facing a bleak future. Most see little chance of returning home in the near future and have little opportunity to restart their lives in exile.
At the ceremony, Al Matouq also gave cheques to several of UNHCR's partner organizations and sister UN agencies, including the World Food Programme, UNICEF, the World Health Organization, the International Committee of the Red Cross, the UN Relief and Works Agency for Palestine Refugees and the International Organization for Migration.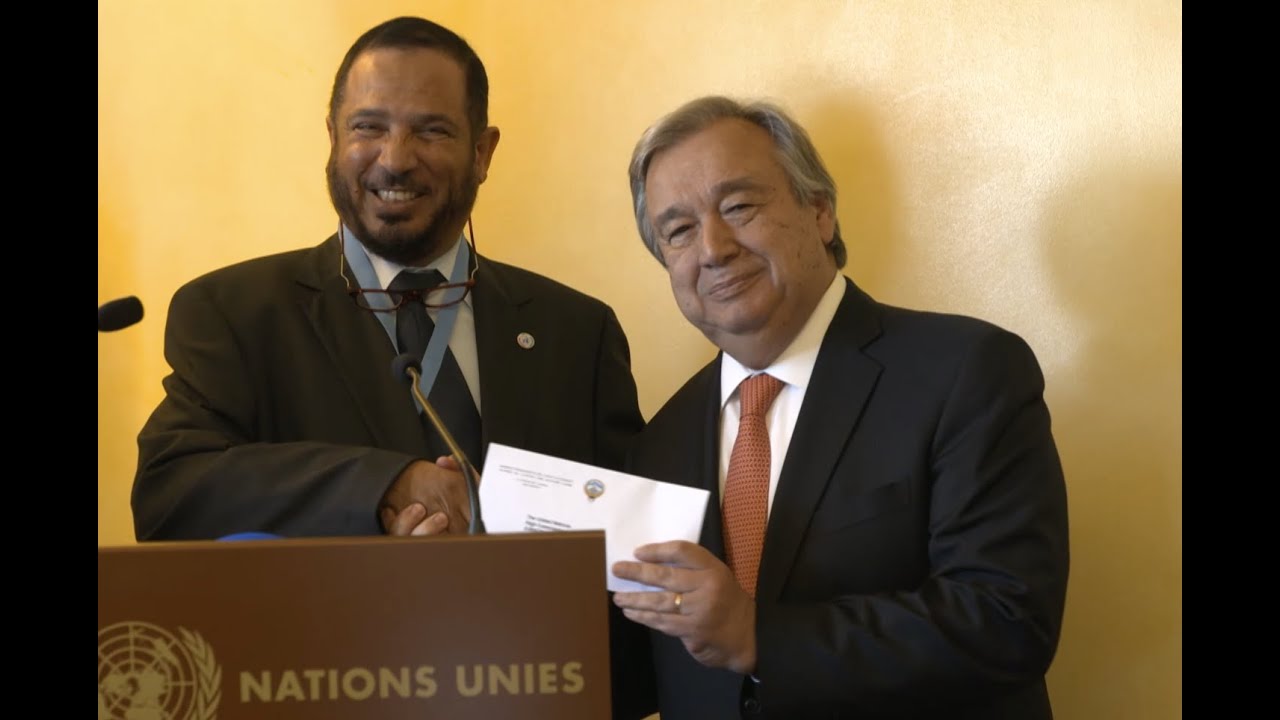 Kuwait donating money to UNHCR