North Korean

family spends second day at UNHCR office

News Stories, 27 June 2001
BEIJING, 27 June 2001 – A family of seven North Koreans including three women sought asylum at the UNHCR office in Beijing Tuesday.
The group included a 17-year-old artist whose drawings depicting life in North Korea could subject the family to punishment if they were returned to that country.
"We believe these people deserve asylum and we are seeking assistance to find a solution for them with all concerned authorities," a UNHCR spokesperson said.
Large numbers of North Koreans reportedly have entered China, but UNHCR has had only limited access to them.
Seven North Koreans sought asylum in China last year, subsequently found themselves in Russia and were returned to North Korea where their fate is unknown.
UNHCR country pages
UNHCR Tents Reaching Earthquake Survivors in China
The UN refugee agency has provided 11,000 urgently needed tents to China to help with emergency shelter for some of the 5 million people left homeless after the devastating earthquake that struck Sichuan province on May 12, 2008.
The tents, which were manufactured in China for UNHCR, have been transported to the quake zone. The first 2,000 tents were airlifted to the zone and arrived in Chengdu on May 25 and the remaining 9,000 arrived not long after. These tents can provide shelter for 55,000 people. They have been distributed in the cities of Aba, Deyang and Guangyuan, close to the epicentre of the quake.
Posted on 4 June 2008
UNHCR Tents Reaching Earthquake Survivors in China
Angelina Jolie visits Syrian and Iraqi refugees in the Middle East
In her new role as UNHCR Special Envoy, Angelina Jolie has made five trips to visit refugees so far this year. She travelled to Jordan, Lebanon and Turkey in September 2012 to meet some of the tens of thousands of Syrians who have fled conflict in their homeland and sought shelter in neighbouring countries. Jolie wrapped up her Middle East visit in Iraq, where she met Syrian refugees in the north as well as internally displaced Iraqis and refugee returnees to Baghdad.
The following unpublished photos were taken during her visit to the Middle East and show her meeting with Syrian and Iraqi refugees.
Angelina Jolie visits Syrian and Iraqi refugees in the Middle East
Lebanon Crisis: UNHCR Gears Up
The UN refugee agency is gearing up for a multi-million-dollar operation in the Middle East aimed at assisting tens of thousands of people displaced by the current crisis in Lebanon.
Conditions for fleeing Lebanese seeking refuge in the mountain areas north of Beirut are precarious, with relief supplies needed urgently to cope with the growing number of displaced. More than 80,0000 people have fled to the Aley valley north of Beirut. Some 38,000 of them are living in schools.
In close collaboration with local authorities, UNHCR teams have been working in the mountain regions since early last week, assessing the situation and buying supplies, particularly mattresses, to help ease the strain on those living in public buildings.
Lebanon Crisis: UNHCR Gears Up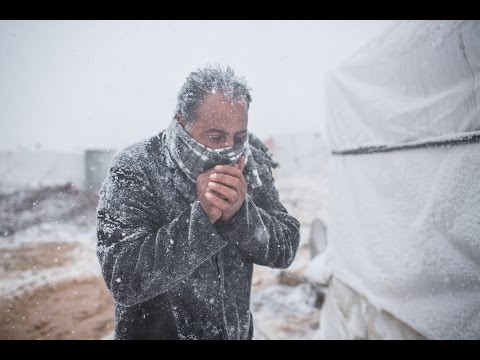 Lebanon: Winter Snowstorm
A massive snowstorm, dubbed Alexa, has brought freezing temperatures, fierce winds, rain and snow to the Middle East. Lebanon's Bekaa Valley has been hard hit, with hundreds of refugees struggling to stay warm and dry in their tents or makeshift shelters.
Three Conflicts - Three Crises
UNHCR says a multitude of new refugee crises in Africa and the Middle East are stretching its capacity to respond.