North Korean

family spends second day at UNHCR office

News Stories, 27 June 2001
BEIJING, 27 June 2001 – A family of seven North Koreans including three women sought asylum at the UNHCR office in Beijing Tuesday.
The group included a 17-year-old artist whose drawings depicting life in North Korea could subject the family to punishment if they were returned to that country.
"We believe these people deserve asylum and we are seeking assistance to find a solution for them with all concerned authorities," a UNHCR spokesperson said.
Large numbers of North Koreans reportedly have entered China, but UNHCR has had only limited access to them.
Seven North Koreans sought asylum in China last year, subsequently found themselves in Russia and were returned to North Korea where their fate is unknown.
UNHCR country pages
UNHCR Tents Reaching Earthquake Survivors in China
The UN refugee agency has provided 11,000 urgently needed tents to China to help with emergency shelter for some of the 5 million people left homeless after the devastating earthquake that struck Sichuan province on May 12, 2008.
The tents, which were manufactured in China for UNHCR, have been transported to the quake zone. The first 2,000 tents were airlifted to the zone and arrived in Chengdu on May 25 and the remaining 9,000 arrived not long after. These tents can provide shelter for 55,000 people. They have been distributed in the cities of Aba, Deyang and Guangyuan, close to the epicentre of the quake.
Posted on 4 June 2008
UNHCR Tents Reaching Earthquake Survivors in China
Jihan's Story
Like millions, 34-year-old Jihan was willing to risk everything in order to escape war-torn Syria and find safety for her family. Unlike most, she is blind.
Nine months ago, she fled Damascus with her husband, Ashraf, 35, who is also losing his sight. Together with their two sons, they made their way to Turkey, boarding a boat with 40 others and setting out on the Mediterranean Sea. They hoped the journey would take eight hours. There was no guarantee they would make it alive.
After a treacherous voyage that lasted 45 hours, the family finally arrived at a Greek island in the Aegean Sea, called Milos - miles off course. Without support or assistance, they had to find their own way to Athens.
The police detained them for four days upon their arrival. They were cautioned to stay out of Athens, as well as three other Greek cities, leaving them stranded.
By now destitute and exhausted, the family were forced to split up - with Ashraf continuing the journey northwards in search of asylum and Jihan taking their two sons to Lavrion, an informal settlement about an hour's drive from the Greek capital.
Today, Jihan can only wait to be reunited with her husband, who has since been granted asylum in Denmark. The single room she shares with her two sons, Ahmed, 5, and Mohammad, 7, is tiny, and she worries about their education. Without an urgent, highly complex corneal transplant, her left eye will close forever.
"We came here for a better life and to find people who might better understand our situation," she says, sadly. "I am so upset when I see how little they do [understand]."
Jihan's Story
Surviving the Storm
A fierce winter storm swept through the Middle East this week bringing icy temperatures, high winds and heavy snow. In Lebanon's Bekaa Valley, more than 400,000 refugees have been enduring freezing conditions since snow levels not seen in many years arrived. Refugee accommodation in the Bekaa ranges from abandoned buildings to garages, sheds, apartments and informal settlements. Conditions are most difficult in the settlements, with roofing on makeshift shelters liable to collapse under the weight of the snow.
Although a great deal of winter aid has been provided, UNHCR remains concerned. Despite the agency's best efforts, the situation in Lebanon remains precarious for refugees, given the extremely poor conditions in which they live and the scattered nature of the population. It is a constant challenge to ensure that refugees across more than 1,700 localities remain safe and warm during the winter months and have sufficient resources to withstand severe storms.
Photojournalist Andrew McConnell spent two days in the Bekaa Valley, documenting the situation for UNHCR.
Surviving the Storm
How Logistical Planning Helps Refugees and Displaced People
Every year UNHCR offices in each country go through a planning process to make sure supply chains are optimised. In looking ahead, staff can forecast demand, check whether there is sufficient capacity in the supply chain and prioritise the needs of vulnerable people.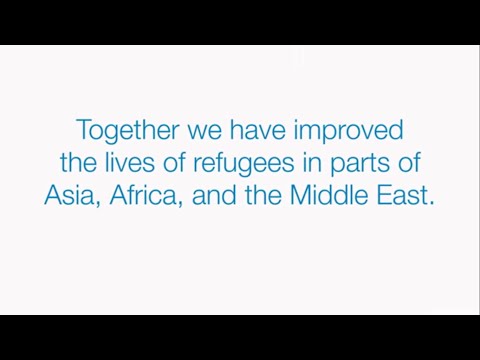 Brighter Lives for Refugees
Thanks to IKEA Foundation's support, UNHCR is helping improve access to lighting, renewable energy solutions and primary education in refugee camps in parts of Asia, Africa and the Middle East.