Returnees express

hope, uncertainty as long exile ends

News Stories, 1 March 2001
Returnees aboard the trucks taking them on the three-day journey from Sudan to Ethiopia. UNHCR/N.Kanhema
PORT SUDAN, Sudan – Hadas Merese was 18 when she lost her family during the reign of Ethiopia's Mengistu Haile Mariam. To save her own life, she was forced to flee to neighbouring Sudan, where she joined thousands of other Ethiopians who were similarly driven into exile during Mengistu's iron-fisted rule.
Although the Mengistu regime (1974-91) fell a decade ago, Hadas still had mixed feelings recently as she prepared to end years of exile and join her husband in Ethiopia, where she had never lived as an adult.
"My husband went back some time ago and he has written to me asking me to bring his children," she said. "I came here 20 years ago. I have made friends here. I have had my children here, but I have no family back in Ethiopia. My husband wrote that he wants his children to grow up in Ethiopia, but I am not sure he still wants me. If he doesn't, then I have no one and nowhere to turn to," said Hadas as she waited recently in the Red Sea town of Port Sudan to board a truck to take her back to Ethiopia.
Hadas is one of 10,700 Ethiopian refugees who have volunteered to return home with UNHCR's help. She and other refugees in Port Sudan were bracing themselves for an arduous three-day journey in open trucks. On the day they left, the Sahara was as brutal as ever, blowing hot wind and dust toward the Red Sea.
The story of the pre-1991 Ethiopian refugees – one of the world's oldest exile populations – is as dramatic and full of twists as the history of the Horn of Africa itself. Some of the refugees came to Sudan as teenagers, grew into adulthood and have become parents themselves. Others were born in Sudan, sometimes to Sudanese, but also to other nationalities, including to Eritrean mothers or fathers.
UNHCR has been negotiating with Sudan, Ethiopia and Eritrea for much of the last decade to resolve the Horn's protracted refugee crises. Now, most of Sudan's remaining Mengistu-era Ethiopians are finally going home.
Many of these Ethiopians are facing tough dilemmas, and few are going back without hesitation. Some are in the midst of university studies and cannot switch to the Ethiopian educational system. Others have found jobs in Sudan and are uncertain whether they will be able to find work back home in Ethiopia.
Sudan, a nation torn by civil war and plagued by natural disasters, has hosted Ethiopians and Eritreans for decades. But it has no provision to integrate foreigners, regardless of how long they have lived there. This makes return the only viable option for Sudan's remaining Ethiopian and Eritrean refugees.
Belanishe, a 32-year-old woman clutching a 5-month-old baby, had a swelling black and blue eye on the day of her departure. Giggling, she first said she had fallen. Then she changed her story, acknowledging that her decision to return had split her family apart and resulted in her black eye.
"When my husband Daniel saw that I was serious with my plans of returning to Ethiopia together with the baby, he got so angry that he punched me in the face," she said. "But it has been so long since I have been home that no one will stop me."
The couple cannot go to Ethiopia together because Daniel is from Eritrea, a country that finished its second war with Ethiopia last year. He fears that his life would be in danger if he went to Ethiopia now.
On the eve of his wife's departure Daniel was torn. He wanted the baby to remain with him in Port Sudan because he feared that he might lose it if Belanishe decided to take the baby to Ethiopia. At the same time, he recognized that he could not look after the baby on his own.
"I will wait for the day Eritreans will be repatriated and I will also return home," said Daniel. "When we finally have peace between Ethiopia and Eritrea, I will then go to Ethiopia and get my family. If I go today, I will be suspected of all sorts of things."
Some 200,000 Eritrean exiles like Daniel remain in Sudan. Organizing their return is now UNHCR's main regional focus.
By Newton Kanhema
UNHCR Nairobi
(Editor's Note: By mid-March of 2001, UNHCR had helped return 10,700 pre-1991 Ethiopian refugees in Sudan who had volunteered to go home. Some had been in exile for more than 30 years. The operation began in Dec. 2000 and will ultimately result in the closure of some of the oldest refugee camps in the world. The operation followed UNHCR's implementation in March 2000 of the so-called "cessation clause" for Mengistu-era refugees, ruling that as a group, they no longer had compelling reasons to fear return.)
UNHCR works with the country of origin and host countries to help refugees return home.
Bonga Camp, Ethiopia
Bonga camp is located in the troubled Gambella region of western Ethiopia. But it remains untouched by the ethnic conflicts that have torn nearby Gambella town and Fugnido camp in the last year.
For Bonga's 17,000 Sudanese refugees, life goes on despite rumblings in the region. Refugee children continue with school and play while their parents make ends meet by supplementing UNHCR assistance with self-reliance projects.
Cultural life is not forgotten, with tribal ceremonies by the Uduk majority. Other ethnic communities – Shuluks, Nubas and Equatorians – are welcome too, judging by how well hundreds of newcomers have settled in after their transfer from Fugnido camp in late 2002.
Bonga Camp, Ethiopia
Southerners on the move before Sudanese vote
Ahead of South Sudan's landmark January 9, 2011 referendum on independence, tens of thousands of southern Sudanese in the North packed their belongings and made the long trek south. UNHCR set up way stations at key points along the route to provide food and shelter to the travellers during their arduous journey. Several reports of rapes and attacks on travellers reinforced the need for these reception centres, where women, children and people living with disabilities can spend the night. UNHCR has made contingency plans in the event of mass displacement after the vote, including the stockpiling of shelter and basic provisions for up to 50,000 people.
Southerners on the move before Sudanese vote
South Sudan: Preparing for Long-Awaited Returns
The signing of a peace agreement between the Sudanese government and the army of the Sudanese People's Liberation Movement on 9 January, 2005, ended 21 years of civil war and signaled a new era for southern Sudan. For some 4.5 million uprooted Sudanese – 500,000 refugees and 4 million internally displaced people – it means a chance to finally return home.
In preparation, UNHCR and partner agencies have undertaken, in various areas of South Sudan, the enormous task of starting to build some basic infrastructure and services which either were destroyed during the war or simply had never existed. Alongside other UN agencies and NGOs, UNHCR is also putting into place a wide range of programmes to help returnees re-establish their lives.
These programs include road construction, the building of schools and health facilities, as well as developing small income generation programmes to promote self-reliance.
South Sudan: Preparing for Long-Awaited Returns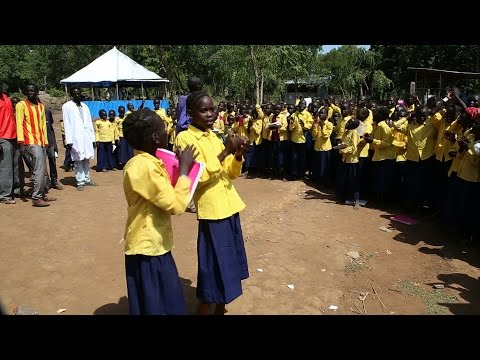 Ethiopia: Education, A Refugee's Call to Serve
War forced Lim Bol Thong to flee South Sudan, putting his dreams of becoming a doctor on hold. As a refugee in the Kule camp in Gambella, Ethiopia, he has found another way to serve. Just 21 years old, Lim started teaching chemistry at the school's primary school and last year was promoted to Vice Principal.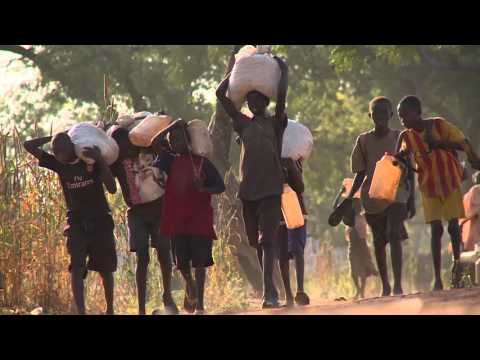 South Sudan: A Long Walk in Search of Safety
Years of fighting between Sudan and rebel forces have sent more than 240,000 people fleeing to neighbouring South Sudan, a country embroiled in its own conflict. After weeks on foot, Amal Bakith and her five children are settling in at Ajoung Thok refugee camp where they receive food, shelter, access to education and land.