Lubbers, Busek

say fate of one million uprooted persons key to Balkan stability

News Stories, 30 January 2002
Bosnian returnees rebuilding their war-torn village. © UNHCR/R.Chalasani
GENEVA, Jan. 30 (UNHCR) – Long-term stability in the Balkans is directly linked to the fate of an estimated one million people who remain uprooted as a result of the region's wars, High Commissioner Ruud Lubbers and the newly appointed head of the Balkan Stability Pact, Erhard Busek, said Wednesday.
"Prospects for lasting peace and stability throughout the Balkans largely depend on whether we can offer a meaningful future to those displaced by war," said Busek, a former Austrian vice-chancellor and Balkan expert who took over the Stability Pact for South Eastern Europe earlier this year.
The Stability Pact, an intergovernmental organisation created in the aftermath of the Balkan wars of the 1990s, works to establish democracy and to promote economic development and security in the region.
The situation in the Balkans and the people uprooted by the wars of the 1990s were the focus of the meeting between Busek and Lubbers, held at UNHCR's Geneva headquarters. Busek said he picked the U.N. refugee agency's Geneva office as one of his first foreign destinations to stress the importance of refugee returns for overall Balkan stability.
In a joint statement, the two officials said much had been achieved since the guns fell silent in Bosnia more than six years ago. They noted that an estimated two million people have since gone back to their homes. During 2001 alone, more refugees and internally displaced persons were able to go home to areas controlled by opposing ethnic factions in Bosnia and Herzegovina and Croatia than at any other time since the Dayton peace agreement was signed in 1995.
Members of minority communities have been returning to difficult areas such as Srebrenica and Foca. This is seen as an indication that many of the legal, administrative and security obstacles have disappeared. But the two officials said continued financial and political support was essential to help some one million people still uprooted by the series of conflicts that left parts of former Yugoslavia in ruins.
"Humanitarian and development funds for this region are in increasingly short supply, just at the time when they are most needed," Lubbers said. "Young people will not return to areas where there are no houses, no employment and no opportunity to raise families."
Busek and Lubbers commended the nations of the former Yugoslavia on their efforts to encourage refugee returns. They cited a number of improvements, including new legislation making returns easier. But they also acknowledged that some uprooted people will never go back to their original place of residence and said they needed financial help to resettle where they are now living.
"If the wealthy nations fail to sustain the Balkan aid effort, the people will eventually vote with their feet and knock on the European Union's door," Werner Blatter, UNHCR's top official in the Balkans, told a news conference in Geneva.
UNHCR country pages
Results of a study carried out in 2008 by UNHCR, with support from the European Commission and UNICEF, May 2009.
Serbia: Europe's forgotten refugees
A study of the lives of three Europeans who have been living as refugees in Serbia for more than 15 years.
Serbia is the only European country with a protracted refugee population. More than 90,000 refugees from Croatia and from Bosnia and Herzegovina remain there, victims of wars that erupted after the break-up of the former Yugoslavia in 1991.
These long-term refugees live under appalling conditions in dingy apartments and overcrowded collective centres – the nearest thing to refugee camps in modern Europe.
This set of pictures tells the story of three displaced people, the problems they face and their hopes for the future.
Serbia: Europe's forgotten refugees
Angelina Jolie in Bosnia
UNHCR Goodwill Ambassador Angelina Jolie met with forcibly displaced people on April 5, 2010 during her first visit to Bosnia and Herzegovina. The actress, accompanied by her partner Brad Pitt, called for steps to end the continued suffering of these victims of the Bosnian War after hearing their harrowing tales and seeing their grim living conditions.
Jolie was clearly moved by the spirit - and the ordeal - of the people she met and she pledged to highlight their case. Most of the people she talked to have been living in exile since the end of the 1992-1995 conflict. Jolie visited collective centres in the towns of Gorazde and Rogatica, where the inhabitants lack basic services such as running water.
The actress spent some time with a group of women who were raped or tortured during the war. Their tales left a deep impression on her. She also met a family of refugee returnees who were still waiting to move into their village home near the eastern Bosnian town of Visegrad.
Angelina Jolie in Bosnia
Ingushetia: Internally Displaced Chechens
When fighting broke out between government troops and rebel forces in Chechnya in 1999, over 200,000 people fled the republic, most of them to the neighbouring republic of Ingushetia. Today, tens of thousands of Chechens remain displaced in Ingushetia, unwilling to go home because of continuing security concerns.
As of early December 2003, some 62,000 displaced Chechens were living in temporary settlements or in private accommodation. Those living in settlements face constant threats of eviction, often by owners who wish to use their buildings again.
Another 7,900 displaced Chechens live in tents in three remaining camps – Satsita, Sputnik, and Bart.
The authorities have repeatedly called for the closure of tent camps and the return of the displaced people to Chechnya. Three camps have been closed in the past year – Iman camp at Aki Yurt, "Bella" or B camp, and "Alina" or A camp. Chechens from the latter two camps who did not wish to go home were allowed to move to Satsita camp or other existing temporary settlements in Ingushetia.
Ingushetia: Internally Displaced Chechens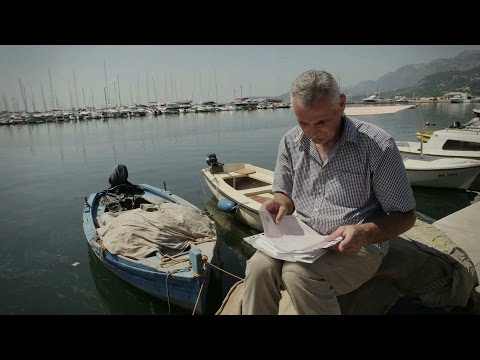 Statelessness in Montenegro: Nusret's Story
Nusret, aged 49, is a stateless man living in Montenegro: "I feel like I'm quarantined," he says.
Bosnia and Herzegovina: Siege of Sarajevo
The siege of Sarajevo began 20 years ago. Lasting nearly four years, it became one of the most dramatic and emblematic events of the violent breakup of the former Yugoslavia.