UNHCR to

move Somali refugees further inland in Kenya

News Stories, 14 May 2002
© UNHCR/Geographic Information and Mapping Unit
MANDERA, Kenya, May 14 (UNHCR) – More than 10,000 Somali refugees who have been encamped in the Kenyan border town of Mandera for nearly three weeks are expected to be moved to a temporary site 10 km to the south in the coming days.
"We're trying to move them to a safer area," said UNHCR spokesman Peter Kessler at a press briefing Tuesday. "Also, by grouping all of them in the same vicinity, we hope to make the distribution of aid easier."
To cope with increasing pressures at the border, UNHCR today flew three of its staff to Mandera from the Kenyan capital of Nairobi. Four more are due tomorrow. The refugee agency is also preparing relief supplies – including medicine, high-energy biscuits, water tanks and tents – to be airlifted to the remote town later this week.
The Somali refugees started arriving in Mandera after clan fighting broke out in mid-April in and around the town of Bula Hawa, just over the border in Somalia. By late last week, the town of 20,000 was reportedly empty as a result of continued fighting between rival sub-clans. People from nearby Somali towns, including Luug and Geedweyne, also fled for Mandera last week.
Comprising mainly women, children and the elderly, the refugees are generally in good health. But cases of diarrhoea and malaria have been reported. Over the weekend, more than 50 children suffering from diarrhoea were admitted to Mandera hospital. Three of them later died. By late yesterday, some 29 of them were still in hospital.
UNHCR is continuing negotiations with the government of Kenya to allow the refugees to remain temporarily around Mandera in the hope that the situation in their home areas will improve soon enough to enable them to return home. The refugees themselves do not wish to move and prefer to wait nearby in the expectation that the fighting in their home areas will soon subside.
The Kenyan government is, however, hesitant to allow the establishment of a refugee camp in or around Mandera and has recommended the transfer of refugees to either of the two existing refugee camps in Kenya.
At the height of the influx of Somali refugees into Kenya in 1992, UNHCR set up a string of camps along the border, including in Mandera. These camps were later closed and refugees either repatriated or transferred to Dadaab refugee camp, some 400 km further south.
Kenya hosts some 250,000 refugees, of whom 140,000 are Somalis.
The health of refugees and other displaced people is a priority for UNHCR.
Dadaab: World's Biggest Refugee Camp Turns 20
Last year, 2011, was the 20th anniversary of the world's biggest refugee camp - Dadaab in north-eastern Kenya. The anniversary is a reminder of the suffering of the Somali people, who have been seeking safety and shelter for two decades. UNHCR, which manages the Dadaab complex, set up the first camps there between October 1991 and June 1992. This followed a civil war in Somalia that in 1991 had culminated in the fall of Mogadishu and overthrow of the Siad Barre regime.
The original intention was for the three Dadaab camps to host up to 90,000 people. However today they host more than 463,000 people, including some 10,000 third-generation refugees born in Dadaab to parents who were also born there.
Last year's famine in Somalia saw more than 150,000 new arrivals, a third of the camp's current population. Overcrowding and stretched resources as well as security concerns have all had an impact on the camp, but UNHCR continues to provide life-saving assistance.
Dadaab: World's Biggest Refugee Camp Turns 20
Dire Times in Dadaab
Angelina Jolie's visit to Dadaab in north-east Kenya puts a spotlight on the overcrowded camp complex, home to tens of thousands of refugees.
When UNHCR Goodwill Ambassador Angelina Jolie visited Dadaab in north-east Kenya on September 12, 2009, she saw first-hand some of the tough conditions that tens of thousands of refugees must live in. The overcrowded three-camp complex is home to more than 285,000 mainly Somali refugees, making it the largest refugee settlement in the world. The camps were established in the early 1990s and were intended for a maximum of 90,000 people. Up to 7,000 people are now arriving every month to escape continuing conflict in Somalia. Jolie talked to residents about their daily life and their exile. These images show her meetings with the refugees of Dadaab and show some of the conditions they live in. Aside from overcrowding, they face water shortages, crammed classrooms, health problems, the coming rainy season and a range of other difficulties. UNHCR hopes new land will be allocated soon for the new arrivals.
Dire Times in Dadaab
Health crisis in South Sudan
There are roughly 105,000 refugees in South Sudan's Maban County. Many are at serious health risk. UNHCR and its partners are working vigorously to prevent and contain the outbreak of malaria and several water-borne diseases.
Most of the refugees, especially children and the elderly, arrived at the camps in a weakened condition. The on-going rains tend to make things worse, as puddles become incubation areas for malaria-bearing mosquitoes. Moderately malnourished children and elderly can easily become severely malnourished if they catch so much as a cold.
The problems are hardest felt in Maban County's Yusuf Batil camp, where as many as 15 per cent of the children under 5 are severely malnourished.
UNHCR and its partners are doing everything possible to prevent and combat illness. In Yusuf Batil camp, 200 community health workers go from home to home looking educating refugees about basic hygene such as hand washing and identifying ill people as they go. Such nutritional foods as Plumpy'nut are being supplied to children who need them. A hospital dedicated to the treatment of cholera has been established. Mosquito nets have been distributed throughout the camps in order to prevent malaria.
Health crisis in South Sudan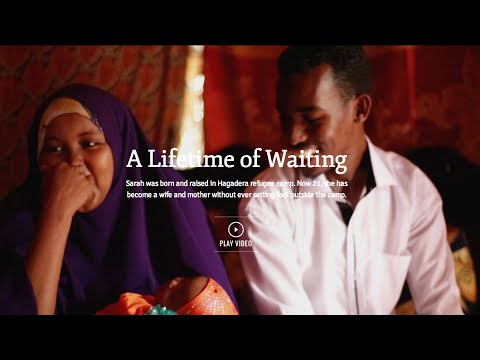 Kenya: A Lifetime of Waiting
Sarah was born and raised in Hagadera refugee camp in Dadaab, Kenya. Now 21, she has become a wife and mother without ever setting foot outside the camp.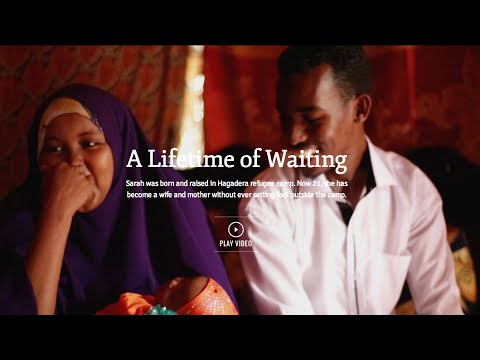 Kenya: A Lifetime of Waiting
Sarah was born and raised in Hagadera refugee camp in Dadaab, Kenya. Now 21, she has become a wife and mother without ever setting foot outside the camp.