In memory:

"Pero Simundza, a Croatian killed in an attack on UNHCR's office in West Timor"

News Stories, 18 December 2003
(This article was first published on December 4, 2003 on the Croatian webzine, www.htnet.hr, as part of a series on Croatians working in international organisations.)
On September 6, 2000, Pero Simundza from Croatia, Carlos Caceres-Collazio from Puerto Rico and Samson Aregahegn from Ethiopia were killed in an attack by 5,000 members of a pro-Indonesian militia, armed with machetes, on the office of UNHCR in Atambua, West Timor, where the main refugee camp was located in the vicinity of the border with East Timor.
The wild mob hacked to death the three UNHCR staff and set the office building, together with their bodies, on fire. It is believed that the attack was the reaction by the police to the death of its former leader Olivio Mendoza Moruk, who had been killed by one of the combatants the day before the tragic event. An Indonesian court sentenced the perpetrators of this horrific crime to sentences ranging from 10 to 20 months, which stirred an avalanche of protests from the international community.
Pero Simundza was born in the city of Zadar in 1971. He graduated from middle school and enrolled in university, and in 1993 he joined the UNHCR mission in Croatia. Starting out in Metkovic, he was transferred to UNHCR's office in Mostar in 1996. From there he went on mission to West Timor as a telecommunications operator. Simundza was also an active amateur radio operator, known under his Croatian dial code 9A4SP. He was one of the first amateur radio operators to receive the license to broadcast from East Timor. Death found him at his radio desk, from where he was trying to warn of the coming danger.
Mirjana Simundza, Pero's relative who lives in the United States, kept regular contact with him during all his missions. She dedicated a website [link removed 3 March 2006, website no longer current] to her late cousin, of whom she says:
"Pero was an extraordinary person, always full of life and humour in his reports from Atambua and Dili. Our last correspondence took place beginning of the Summer [1993], when we were exchanging Bosnian jokes, which was exceptional. I did not save those messages. He did not tell me then when he was intending to come back from West Timor, but he knew that he would stay for at least six months (a period that had just expired), with the presumption that he would stay 'even longer'.
He really loved his job and told me that he would not give it up. He hoped that after Indonesia, he might go to Africa. On 14 January, while he was awaiting the call to go to West Timor, he told me, 'It is hard to plan that much in advance, but I really do hope that after Indonesia, I will be able to go to Africa for a while. That is my big dream.'
He sent his first report from Atambua beginning of March. He wrote about his colleagues, Bashir from Pakistan, Samson from Ethiopia (who was killed too) and a female colleague from India. 'Very good people.' He also mentioned Alvin from the Philippines, whom he used to call 'Mujo' [translator's note: Mujo is a common name in Bosnia], because Alvin learned 'Bosnian' while he was on mission for the UN in Bosnia.
He found that the majority of people he met in West Timor were friendly and kind. Communication problems were bridged in an amusing manner with gestures, because only a few speak English there. He was happy with his job, although the working days were long and hard: at least ten hours every day in Atambua; in Dili from six o'clock in the morning until midnight, with short breaks, when an assistant was replacing him.
Being the only Caucasian in the Atambua office, he was looked after and taken care of by everyone. His descriptions of Lilliputian settlements were very picturesque – his own feeling of being like Gulliver; he was joking about the climate, the rain seasons and the unbearable heat, as well as the explosive and militant supporters. It is hard to believe that his intelligent voice will never again reach me."
Translated by Neven Crvenkovic
UNHCR Zagreb
UNHCR country pages
Related Internet Links
UNHCR is not responsible for the content and availability of external internet sites
Serbia: Europe's forgotten refugees
A study of the lives of three Europeans who have been living as refugees in Serbia for more than 15 years.
Serbia is the only European country with a protracted refugee population. More than 90,000 refugees from Croatia and from Bosnia and Herzegovina remain there, victims of wars that erupted after the break-up of the former Yugoslavia in 1991.
These long-term refugees live under appalling conditions in dingy apartments and overcrowded collective centres – the nearest thing to refugee camps in modern Europe.
This set of pictures tells the story of three displaced people, the problems they face and their hopes for the future.
Serbia: Europe's forgotten refugees
Prince Soniyiki, from Nigerian to "Croatian" in three years
Prince Wale Soniyiki, 29, is the poster boy for Croatia's refugee system. When Prince (that's his real name, not a royal title) arrived here from Nigeria three years ago, he felt like a "complete nobody." Today he has a good job, speaks the language fluently and is a well-known advocate for asylum-seekers, whose voices are rarely heard in Croatian society. Prince fled Nigeria in December 2011 after a bloody terrorist attack killed his brothers. A circuitous route through Libya and Italy eventually led him to Croatia.
Croatia, which joined the European Union in 2013, has a well-functioning asylum system. But it's rarely tested because nearly all asylum-seekers and refugees move on to other European countries, partly because integration into society is not easy. Prince, though, is making a life here. Two years ago he founded "Africans Living in Croatia" to help others like him integrate and to help Croatians better understand migrants. His passionate work grabbed the attention of the owner of a tuna farming company, who offered him a job on his boat on the Adriatic coast.
Prince Soniyiki, from Nigerian to "Croatian" in three years
Pakistan: Fleeing to Safety
More than 1.5 million people flee their homes in North-West Pakistan.
Fighting between the army and Taliban militants in and around the Swat Valley in Pakistan's North-West Frontier Province has displaced more than 1.5 million people since the beginning of May. Some of the displaced are being sheltered in camps set up by the government and supplied by UNHCR. Others - the majority, in fact - are staying in public buildings, such as schools, or with friends and extended family members. Living conditions are harsh. With the onset of summer, rising temperatures are contributing to a range of ailments, especially for villagers from Swat accustomed to a cooler climate. Pakistan's displacement crisis has triggered an outpouring of generosity at home. UN High Commissioner for Refugees António Guterres is urging a "massive" assistance effort from abroad as well.
Pakistan: Fleeing to Safety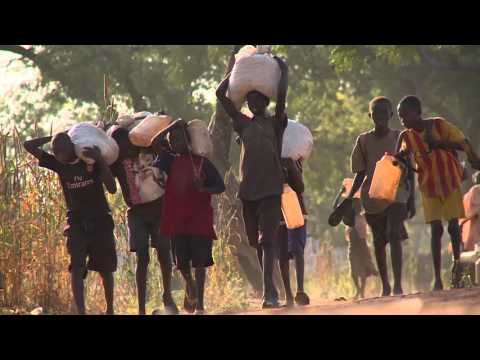 South Sudan: A Long Walk in Search of Safety
Years of fighting between Sudan and rebel forces have sent more than 240,000 people fleeing to neighbouring South Sudan, a country embroiled in its own conflict. After weeks on foot, Amal Bakith and her five children are settling in at Ajoung Thok refugee camp where they receive food, shelter, access to education and land.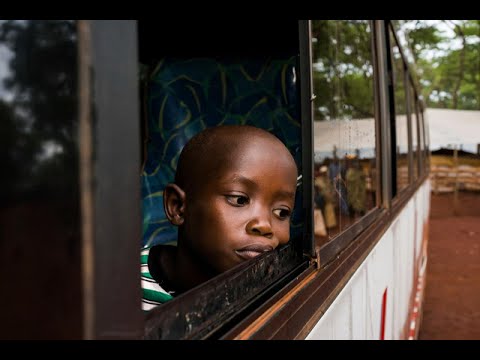 Tanzania: Fleeing Burundi, Refugees Seek Safety
He used to fix broken bicycles in Burundi, but as political troubles and killings mounted Nestor Kamza decided to flee. In search of safety he and his family walked non-stop for 24-hours until they reached Tanzania. His family is among more than 100,000 people who have fled from political violence in Burundi and arrived in the Nyarugusu camp which has almost tripled in size. To alleviate overcrowding in the camp, UNHCR and its partners have planned to open three new camps and have started moving tens of thousands of Burundian refugees to a new, less congested, home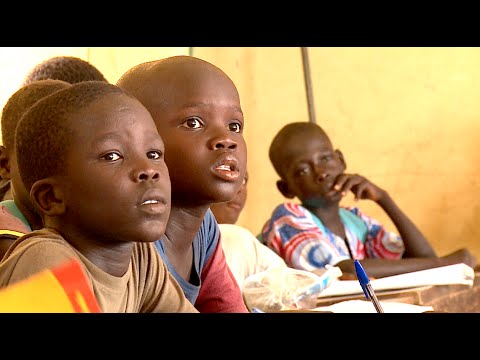 Nigeria: Back to school
When gun-toting Boko Haram insurgents attacked villages in north-eastern Nigeria, thousands of children fled to safety. They now have years of lessons to catch up on as they return to schools, some of which now double as camps for internally displaced people or remain scarred by bullets.