From detention

to family reunion

News Stories, 3 March 2004
RHODES, Greece (UNHCR) – At an age when some children have not even taken the bus alone, Ahmed and Omar (not their real names) have hopped on a boat – unaccompanied – in search of their mother half the world away.
The Somali brothers, aged six and 12, have survived years of loneliness, not to mention a long voyage and detention, to be with their mother in Sweden.
In 1999, their mother fled the conflict in Somalia and was granted refugee status in Sweden, from where she tried to reunite with her sons. She had left them behind with their grandparents, who sent them to Syria two years later with a family friend. After two years in Damascus, the boys were put on a boat to Greece.
During their five-day voyage, they discovered their 25-year-old half-brother on the same boat and he took care of them for the rest of the way. Arriving on the Greek island of Rhodes in May 2003, the brothers were kept in detention for three months. During that time, they were interviewed for family reunification by a Swedish consular officer, and visited by a social worker from the Greek Council for Refugees (GCR).
The psychological assessment concluded that the detention centre was not suitable for the children. However, the social worker felt that "it was thought best for them to remain at the centre for a short time until their detention was completed, and then to move them to an appropriate accommodation in Athens, rather than having to go through another unsettling process and deal with yet another change of environment."
Besides, the boys seemed quite happy to be with their half-brother, and were well-treated by the other detainees.
© UNHCR Greece
The three Somali brothers outside their detention centre on the Greek island of Rhodes.
In addition to their psychological state, the children's opinions were also seriously considered. Asked if they preferred to return to Somalia or to live with their mother in Sweden, they said they wished to go to their mother as soon as possible.
A social worker from the Greek Helsinki Monitor & Medical Rehabilitation Centre for Torture Victims observed that the boys seemed really tired of their situation. "The only thing they kept asking was: When are we going to leave? When will we see our mother?" she said. "I never actually saw the little one smile during his stay. The first time I saw him smiling was when he got on the boat to Athens."
From Rhodes, the boys and their half-brother were moved to the Pikermi reception centre for vulnerable asylum seekers, located near Athens and run by the Greek Helsinki Monitor. They spent more than a week there, where they were provided with safety and security as well as age-appropriate guidance and care by social workers.
Thanks to the efforts of three Greek non-governmental organisations, the Ombudsman's Office, the Swedish Embassy, the Swedish Red Cross (SRC), and UNHCR, as well as the help provided by the Greek Asylum Department of the Ministry of Public Order, the children were finally reunited with their mother.
She came to Athens after the necessary arrangements and procedures had been finalised. It was an emotional reunion as the boys had not seen her for almost five years. Together, they left for Sweden, where the children had been granted residence permits.
This can be considered a success story involving family reunification of young children with their mother. It is also a positive example of inter-agency cooperation both in Greece and in Sweden.
But what is worrying is that in 2002 there were some 250 unaccompanied children registered with the authorities in Greece, few of whom are likely to ever see their families again.
By Gina Degaita
UNHCR Greece
Crossing the Gulf of Aden
Every year thousands of people in the Horn of Africa - mainly Somalis and Ethiopians - leave their homes out of fear or pure despair, in search of safety or a better life. They make their way over dangerous Somali roads to Bossaso in the northern semi-autonomous region of Puntland.
In this lawless area, smuggler networks have free reign and innocent and desperate civilians pay up to US$150 to make the perilous trip across the Gulf of Aden.
Some stay weeks on end in safe houses or temporary homes in Bossaso before they can depart. A sudden call and a departure in the middle of the night, crammed in small unstable boats. At sea, anything can happen to them - they are at the whim of smugglers. Some people get beaten, stabbed, killed and thrown overboard. Others drown before arriving on the beaches of Yemen, which have become the burial ground for hundreds who many of those who died en route.
Crossing the Gulf of Aden
Somalia/Ethiopia
In February 2005, one of the last groups of Somalilander refugees to leave Aisha refugee camp in eastern Ethiopia boarded a UNHCR convoy and headed home to Harrirad in North-west Somalia - the self-declared independent state of Somaliland. Two years ago Harrirad was a tiny, sleepy village with only 67 buildings, but today more than 1,000 people live there, nearly all of whom are former refugees rebuilding their lives.
As the refugees flow back into Somalia, UNHCR plans to close Aisha camp by the middle of the year. The few remaining refugees in Aisha - who come from southern Somalia - will most likely be moved to the last eastern camp, Kebribeyah, already home to more than 10,000 refugees who cannot go home to Mogadishu and other areas in southern Somalia because of continuing lawlessness there. So far refugees have been returning to only two areas of the country - Somaliland and Puntland in the north-east.
Somalia/Ethiopia
Flood Airdrop in Kenya
Over the weekend, UNHCR with the help of the US military began an emergency airdrop of some 200 tonnes of relief supplies for thousands of refugees badly hit by massive flooding in the Dadaab refugee camps in northern Kenya.
In a spectacular sight, 16 tonnes of plastic sheeting, mosquito nets, tents and blankets, were dropped on each run from the C-130 transport plane onto a site cleared of animals and people. Refugees loaded the supplies on trucks to take to the camps.
Dadaab, a three-camp complex hosting some 160,000 refugees, mainly from Somalia, has been cut off from the world for a month by heavy rains that washed away the road connecting the remote camps to the Kenyan capital, Nairobi. Air transport is the only way to get supplies into the camps.
UNHCR has moved 7,000 refugees from Ifo camp, worst affected by the flooding, to Hagadera camp, some 20 km away. A further 7,000 refugees have been moved to higher ground at a new site, called Ifo 2.
Posted in December 2006
Flood Airdrop in Kenya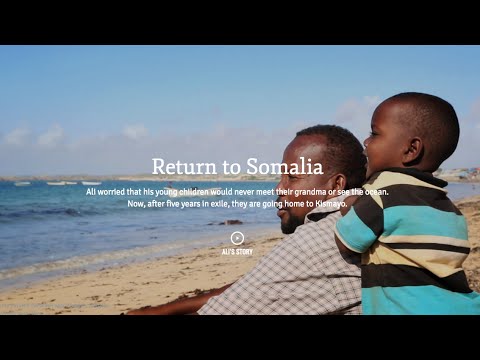 Return to Somalia
Ali and his family are ready to return to Somalia after living in Dadaab refugee camp for the past five years. We follow their journey from packing up their home in the camp to settling into their new life back in Somalia.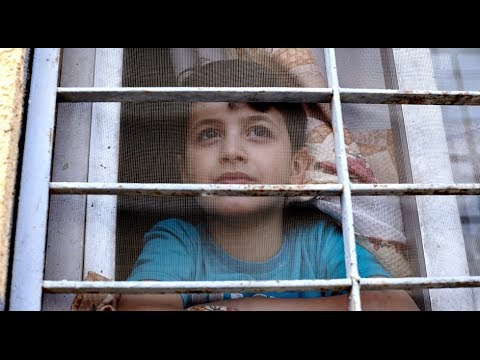 Sweden: Mahmoud's Escape
Mahmoud was one of more than 300,000 Syrian refugees who have sought safety in Egypt since the conflict in his homeland began three years ago. The nine-year-old was so desperate to attend school that he risked his life to get to Europe. He was stopped and sent back to Egypt but is now making a fresh start in Sweden.