"Voices for

Darfur" DVD released in United Kingdom

News Stories, 5 September 2005
LONDON, September 5 (UNHCR) – Nine months ago, a group of artists got together to sing and raise funds for the victims of the Darfur crisis. Today, they've released a DVD featuring the concert as well as exclusive songs and images in support of UNHCR's work in the region.
The new DVD, "Voices for Darfur", was released by EMI today in the United Kingdom. It features artists who took part in the December 8 concert in London, including Yusuf Islam, Chrissie Hynde, Mick Hucknall, Nicole Russo of the Brand New Heavies, Moloko singer Roisin Murphy, Ruthie Henshall, Sir Willard White, and UNHCR's longest-serving Goodwill Ambassador, Barbara Hendricks.
"I hope this will once again show that music has the power to make a difference and save lives," said Antony Costa of Blue, who sang "Moondance" on the DVD.
Sade wrote and recorded her first new track in four years, "Mum", especially for the DVD, accompanied by images from Darfur. David Gray, who had to pull out of the concert due to voice problems, recorded "Ain't No Love" for the DVD.
British band Franz Ferdinand was also unable to attend the concert but provided a song for the evening and donated half of their Mercury Music prize money. Coldplay also contributed generously.
The DVD includes additional backstage footage of all artists expressing their views on the Darfur conflict and explaining their decision to perform for free.
The "Voices for Darfur" DVD cover.
"The crisis in Darfur is the worst I've seen," said the concert's patron, Robin Millar of Whitfield Street Studios. "This DVD continues our efforts for a global campaign to help as best as we can."
Now in stores in the UK, the DVD will be released in the coming weeks in Europe, Australia, the United States and Japan. As with the concert, proceeds from the DVD will go towards helping the displaced people and refugees in Darfur and Chad.
The two-and-a-half-year conflict in the Darfur region of western Sudan has displaced close to 2 million people within Darfur and driven more than 200,000 into neighbouring Chad, where UNHCR has 12 camps to care for the refugees.
UNHCR country pages
Bonga Camp, Ethiopia
Bonga camp is located in the troubled Gambella region of western Ethiopia. But it remains untouched by the ethnic conflicts that have torn nearby Gambella town and Fugnido camp in the last year.
For Bonga's 17,000 Sudanese refugees, life goes on despite rumblings in the region. Refugee children continue with school and play while their parents make ends meet by supplementing UNHCR assistance with self-reliance projects.
Cultural life is not forgotten, with tribal ceremonies by the Uduk majority. Other ethnic communities – Shuluks, Nubas and Equatorians – are welcome too, judging by how well hundreds of newcomers have settled in after their transfer from Fugnido camp in late 2002.
Bonga Camp, Ethiopia
Southerners on the move before Sudanese vote
Ahead of South Sudan's landmark January 9, 2011 referendum on independence, tens of thousands of southern Sudanese in the North packed their belongings and made the long trek south. UNHCR set up way stations at key points along the route to provide food and shelter to the travellers during their arduous journey. Several reports of rapes and attacks on travellers reinforced the need for these reception centres, where women, children and people living with disabilities can spend the night. UNHCR has made contingency plans in the event of mass displacement after the vote, including the stockpiling of shelter and basic provisions for up to 50,000 people.
Southerners on the move before Sudanese vote
South Sudan: Preparing for Long-Awaited Returns
The signing of a peace agreement between the Sudanese government and the army of the Sudanese People's Liberation Movement on 9 January, 2005, ended 21 years of civil war and signaled a new era for southern Sudan. For some 4.5 million uprooted Sudanese – 500,000 refugees and 4 million internally displaced people – it means a chance to finally return home.
In preparation, UNHCR and partner agencies have undertaken, in various areas of South Sudan, the enormous task of starting to build some basic infrastructure and services which either were destroyed during the war or simply had never existed. Alongside other UN agencies and NGOs, UNHCR is also putting into place a wide range of programmes to help returnees re-establish their lives.
These programs include road construction, the building of schools and health facilities, as well as developing small income generation programmes to promote self-reliance.
South Sudan: Preparing for Long-Awaited Returns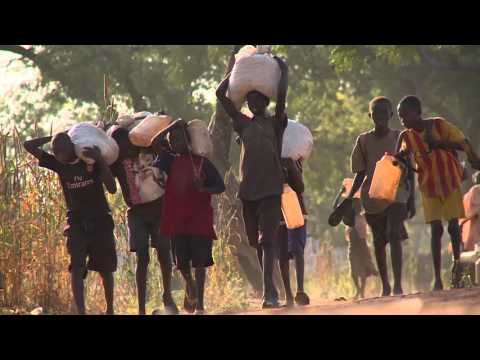 South Sudan: A Long Walk in Search of Safety
Years of fighting between Sudan and rebel forces have sent more than 240,000 people fleeing to neighbouring South Sudan, a country embroiled in its own conflict. After weeks on foot, Amal Bakith and her five children are settling in at Ajoung Thok refugee camp where they receive food, shelter, access to education and land.
South Sudan: Helping the Most Vulnerable
UNHCR comes to the assistance of older, disabled and sickly Sudanese refugees arriving in Yusuf Batil Camp.