National Activity

Plan 2006: Benin, Burkina Faso, Niger and Togo

World Refugee Day, 20 June 2006
To sensitize the population about refugee problems, UNHCR, in association with CARITAS and Amnesty International, will organize cultural and sport activities, a movie projection, a photo exhibition and handicraft sales by refugees. (Benin).
To inform the host population, UNHCR, also in association with CARITAS and Amnesty International, will publish a book, made by refugees; religious leaders will hold a service and will talk about refugees, students from Benin will meet refugee students to exchange their experiences. (Benin).
To lead to a more comprehensive view of refugees, a "street-interview" and a special show on "Canal ONU" will be broadcast, in collaboration with TNB (Télévision Nationale du Burkina Faso) and CINU (Centre d'information des Nations Unies). Also, a conference will be organized on 19 June. (Burkina Faso).
An official ceremony, in collaboration with TNB, will take place in the Foreign Ministry, 20 June. (Burkina Faso).
To inform the host, a film, followed by a debate, will be played in association with the Red Cross. A refugee guide will also be distributed population. (Niger).
A running competition will be organized between refugees and employees from CNE-CADEV and the Red Cross. (Niger).
To make people more aware about refugees, TV and radio shows will be broadcast about refugee activities and UNHCR missions. (Togo).
With the "Comité National Olympique Togolais", cultural and sports activities will be organized to make host communities and refugees meet and get to know each other. (Togo).
Among the Muslim and Christian communities, prayers will also be organized by priests, pastors and imams. (Togo).
UNHCR country pages
Thousands Start Afresh in Niger After Fleeing Nigeria
In May 2013, the Nigerian government, responding to a surge in violence in the north-east of the country, declared a state of emergency in the volatile states of Borno, Adawama and Yobe. Many people fled to neighbouring Niger's Diffa region and to the Far North Region of Cameroon. Fresh violence in January this year has forced thousands more to flee to both countries. UNHCR photographer Hélène Caux visited the towns of Bosso and Diffa in Niger's Diffa region shortly before the latest influx. She met some of the Nigerian refugees who had fled earlier waves of violence across the border. They told her of the violence they had seen, the losses they had suffered and their attempts to lead as normal a life as possible in Diffa, including sending their children to attend school. They are grateful to the communities that have welcomed and helped them in Niger.
Thousands Start Afresh in Niger After Fleeing Nigeria
The Most Important Thing – Malian Refugees in Burkina Faso
"The Most Important Thing" documents - in words and pictures - some of the tough decisions people face when they have to flee their home. With support from UNHCR, American photographer Brian Sokol began the project in South Sudan, taking portraits of Sudanese refugees carrying the most valuable possession they brought with them into exile. He also asked them to explain their decision. Sokol continued with Syrian refugees in Iraq and in this photo essay looks at Malians in refugee camps in neighbouring Burkina Faso. While the photographs may reveal a fair amount about the subjects, it is their words - their stories - that share far more.
For the Sudanese, the most important things were primarily objects to keep them alive during their long, difficult journey: a pot, an axe, a water jug or a basket. For Syrians, the objects were largely sentimental: an old ring, a torn photograph, the key to a door that may no longer exist. Among the Malians depicted in this photo gallery, the objects largely had to do with their cultural identity. They spoke of how the items helped them to still feel part of their people, despite being forced into exile.
The Most Important Thing – Malian Refugees in Burkina Faso
Relocation from the Border Country of Burkina Faso
The process of relocating refugees from one site to a safer one is full of challenges. In Burkina Faso, the UN refugee agency has been working with partner organizations and the government to move thousands of Malian refugee families away from border sites like Damba to a safer camp some 100 kilometres to the south. Working under hot and harsh conditions, the aid workers had to dismantle shelters and help people load their belongings onto trucks for the journey. The new site at Mentao is also much easier to access with emergency assistance, including shelter, food, health care and education. These images, taken by photographer Brian Sokol, follow the journey made by Agade Ag Mohammed, a 71-year-old nomad, and his family from Damba to Mentao in March. They fled their home in Gao province last year to escape the violence in Mali, including a massacre that left two of his sons, a brother and five nephews dead. As of mid-April 2013 there were more than 173,000 Malian refugees in neighbouring countries. Within the arid West African nation there are an estimated 260,000 internally displaced people.
Relocation from the Border Country of Burkina Faso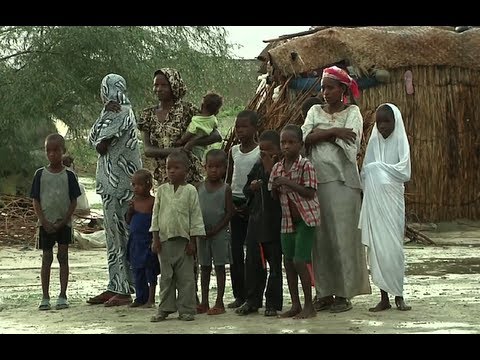 Niger: Flight from Nigeria
People escaping the fighting between the Nigerian army and Boko Haram rebels get a friendly welcome in Niger.