Thousands of

Syrian refugees stream into Iraq

Press Releases, 18 August 2013

Thousands of Syrian refugees have been streaming into northern Iraq today (Sunday) moving in a wave of people loaded down with their belongings.

"Authorities at the Sahela border crossing report that more than 5,000 Syrians have arrived and many more are headed to the frontier," said Claire Bourgeois, UNHCR Representative in Iraq. "UN refugee agency staff at Sahela today report what appears like a river of people coming towards the border."

"The number of people moving across the frontier today is quite significant," Bourgeois declared. "UNHCR is witnessing a major exodus from Syria over the past few days unlike anything we have witnessed entering Iraq previously."

On Saturday, more than 10,000 Syrians streamed across the Peshkhabour bridge over the Tigris River, north of the Sahela crossing, as people continued to flee areas in northern Syria stretching from northwest of Aleppo eastwards. Many refugees said they were fleeing fighting involving various armed groups and increasing tension in areas of northern Syria including Efrin, Aleppo, Hassake and Qamishly.

UNHCR estimates that more than 15,000 Syrians crossed into Iraq on Thursday and Saturday at the Peshkhabour pontoon bridge over the Tigris River.

The on-going exodus adds sharply to the number of Syrians in Iraq. Prior to Thursday some 154,000 Syrians had registered as refugees in Iraq.

UNHCR and its partners have erected shelters with plastic tarpaulins at both the Sahela and Peshkhabour crossings to protect fleeing Syrians from the sun and heat while they await transport from the border using a fleet of hundreds of vehicles organized by the International Organisation for Migration and the Kurdistan Regional Government. Together with the authorities and its NGO partners, UNHCR is distributing water and food to the new arrivals.

UNHCR has sent 37 trucks loaded with relief items and sanitary supplies including tents, mattresses, jerry cans, tarpaulins, blankets, hygienic kits, kitchen sets, stoves, water tanks, latrines, showers and electric fans to help the new arrivals.

"UNHCR is grateful for the close cooperation and support of the Iraqi Government and the Kurdistan Regional Government in opening the border and assisting these new arrivals," said UNHCR's Claire Bourgeois.

Aid workers reported desperate scenes amidst the summer heat as families swarmed across the pontoon bridge at Peshkhabour on Saturday. Prior to last Thursday's arrivals, Iraq's border with Syria had been sharply regulated since mid-May, aside from some 700 Syrians who were allowed to cross on 15th July for medical reasons and to rejoin relatives.

In conjunction with regional authorities, UNHCR has opened a transit site at Kawergost town, near Khabat in Erbil Governorate. Some 7,000 Syrian refugees are currently encamped at the transit site. Some 600 tents have been erected at the transit area and a further 250 tents are planned.

Kurdish Regional Government authorities have transferred 4,000 of the new arrivals to a school in Sulemaniyah Governorate further eastwards where another temporary transit site is under construction. Others are being accommodated with relatives or in mosques.

In cooperation with the Kurdish Regional Government, UNHCR and its partners are building Darashakran camp, which is expected to begin accommodating refugees by the end of August. UNHCR built Domiz refugee camp near Dohuk, Iraq earlier this year. Domiz, originally constructed to accommodate 15,000 Syrian refugees, is currently overcrowded with more than 55,000 residents

UNHCR oversees aid to more than 1.9 million Syrian refugees in neighbouring countries.

For media inquiries:
Amman, Jordan: Peter Kessler: mob. +962-79-631-7901
Geneva, Switzerland: Adrian Edwards: mob.+ 41-79-557-9120
Dubai, UAE: Mohammed Abu Asaker: mob. +971-50-621-3552
UNHCR country pages
over 4 million Syrians are now refugees
UNHCR Syria Annual Reports
Thousands of desperate Syrian refugees seek safety in Turkey after outbreak of fresh fighting
Renewed fighting in northern Syria since June 3 has sent a further 23,135 refugees fleeing across the border into Turkey's southern Sanliurfa province. Some 70 per cent of these are women and children, according to information received by UNHCR this week.
Most of the new arrivals are Syrians escaping fighting between rival military forces in and around the key border town of Tel Abyad, which faces Akcakale across the border. They join some 1.77 million Syrian refugees already in Turkey.
However, the influx also includes so far 2,183 Iraqis from the cities of Mosul, Ramadi and Falujjah.
According to UNHCR field staff most of the refugees are exhausted and arrive carrying just a few belongings. Some have walked for days. In recent days, people have fled directly to Akcakale to escape fighting in Tel Abyad which is currently reported to be calm.
Thousands of desperate Syrian refugees seek safety in Turkey after outbreak of fresh fighting
Cold, Uncomfortable and Hungry in Calais
For years, migrants and asylum-seekers have flocked to the northern French port of Calais in hopes of crossing the short stretch of sea to find work and a better life in England. This hope drives many to endure squalid, miserable conditions in makeshift camps, lack of food and freezing temperatures. Some stay for months waiting for an opportunity to stow away on a vehicle making the ferry crossing.
Many of the town's temporary inhabitants are fleeing persecution or conflict in countries such as Afghanistan, Eritrea, Iraq, Sudan and Syria. And although these people are entitled to seek asylum in France, the country's lack of accommodation, administrative hurdles and language barrier, compel many to travel on to England where many already have family waiting.
With the arrival of winter, the crisis in Calais intensifies. To help address the problem, French authorities have opened a day centre as well as housing facilities for women and children. UNHCR is concerned with respect to the situation of male migrants who will remain without shelter solutions. Photographer Julien Pebrel recently went to Calais to document their lives in dire sites such as the Vandamme squat and next to the Tioxide factory.
Cold, Uncomfortable and Hungry in Calais
Abdu finds his voice in Germany
When bombs started raining down on Aleppo, Syria, in 2012, the Khawan family had to flee. According to Ahmad, the husband of Najwa and father of their two children, the town was in ruins within 24 hours.
The family fled to Lebanon where they shared a small flat with Ahmad's two brothers and sisters and their children. Ahmad found sporadic work which kept them going, but he knew that in Lebanon his six-year-old son, Abdu, who was born deaf, would have little chance for help.
The family was accepted by Germany's Humanitarian Assistance Programme and resettled into the small central German town of Wächtersbach, near Frankfurt am Main. Nestled in a valley between two mountain ranges and a forest, the village has an idyllic feel.
A year on, Abdu has undergone cochlear implant surgery for the second time. He now sports two new hearing aids which, when worn together, allow him to hear 90 per cent. He has also joined a regular nursery class, where he is learning for the first time to speak - German in school and now Arabic at home. Ahmed is likewise studying German in a nearby village, and in two months he will graduate with a language certificate and start looking for work. He says that he is proud at how quickly Abdu is learning and integrating.
Abdu finds his voice in Germany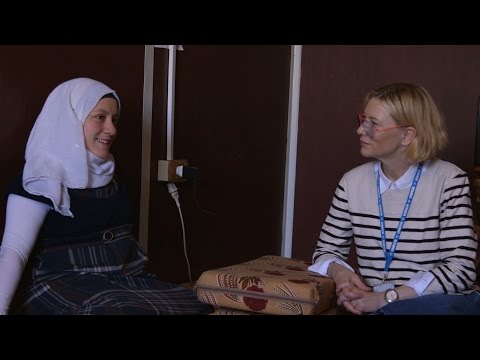 UNHCR Goodwill Ambassador Cate Blanchett visits refugees in Jordan
UNHCR global Goodwill Ambassador Cate Blanchett has recently visited Jordan, where she witnessed the ongoing humanitarian support to people displaced by conflict in Syria.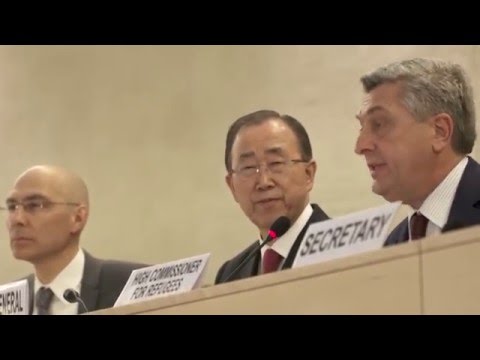 Switzerland: UNHCR Finding Pathways for Syrian Refugees
In the pursuit of innovative ways to help Syrian refugees, a conference in Geneva considers proposals for other pathways such as humanitarian admission, scholarships, family reunification and labour mobility.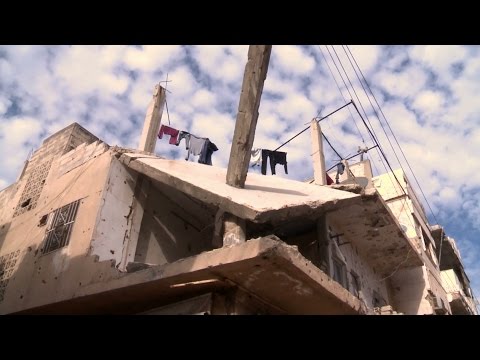 Syria: Hope Returns to Baba Amr
Twelve out of 36 neighbourhoods in the city of Homs are in desperate need of reconstruction. One of them is Baba Amr, where clashes in 2011-2012 uprooted some 80,000 people. Four years on, returning residents and Syrians displaced from other parts of the country are coming together to rebuild the area.