Thousands of

Syrian refugees stream into Iraq

Press Releases, 18 August 2013

Thousands of Syrian refugees have been streaming into northern Iraq today (Sunday) moving in a wave of people loaded down with their belongings.

"Authorities at the Sahela border crossing report that more than 5,000 Syrians have arrived and many more are headed to the frontier," said Claire Bourgeois, UNHCR Representative in Iraq. "UN refugee agency staff at Sahela today report what appears like a river of people coming towards the border."

"The number of people moving across the frontier today is quite significant," Bourgeois declared. "UNHCR is witnessing a major exodus from Syria over the past few days unlike anything we have witnessed entering Iraq previously."

On Saturday, more than 10,000 Syrians streamed across the Peshkhabour bridge over the Tigris River, north of the Sahela crossing, as people continued to flee areas in northern Syria stretching from northwest of Aleppo eastwards. Many refugees said they were fleeing fighting involving various armed groups and increasing tension in areas of northern Syria including Efrin, Aleppo, Hassake and Qamishly.

UNHCR estimates that more than 15,000 Syrians crossed into Iraq on Thursday and Saturday at the Peshkhabour pontoon bridge over the Tigris River.

The on-going exodus adds sharply to the number of Syrians in Iraq. Prior to Thursday some 154,000 Syrians had registered as refugees in Iraq.

UNHCR and its partners have erected shelters with plastic tarpaulins at both the Sahela and Peshkhabour crossings to protect fleeing Syrians from the sun and heat while they await transport from the border using a fleet of hundreds of vehicles organized by the International Organisation for Migration and the Kurdistan Regional Government. Together with the authorities and its NGO partners, UNHCR is distributing water and food to the new arrivals.

UNHCR has sent 37 trucks loaded with relief items and sanitary supplies including tents, mattresses, jerry cans, tarpaulins, blankets, hygienic kits, kitchen sets, stoves, water tanks, latrines, showers and electric fans to help the new arrivals.

"UNHCR is grateful for the close cooperation and support of the Iraqi Government and the Kurdistan Regional Government in opening the border and assisting these new arrivals," said UNHCR's Claire Bourgeois.

Aid workers reported desperate scenes amidst the summer heat as families swarmed across the pontoon bridge at Peshkhabour on Saturday. Prior to last Thursday's arrivals, Iraq's border with Syria had been sharply regulated since mid-May, aside from some 700 Syrians who were allowed to cross on 15th July for medical reasons and to rejoin relatives.

In conjunction with regional authorities, UNHCR has opened a transit site at Kawergost town, near Khabat in Erbil Governorate. Some 7,000 Syrian refugees are currently encamped at the transit site. Some 600 tents have been erected at the transit area and a further 250 tents are planned.

Kurdish Regional Government authorities have transferred 4,000 of the new arrivals to a school in Sulemaniyah Governorate further eastwards where another temporary transit site is under construction. Others are being accommodated with relatives or in mosques.

In cooperation with the Kurdish Regional Government, UNHCR and its partners are building Darashakran camp, which is expected to begin accommodating refugees by the end of August. UNHCR built Domiz refugee camp near Dohuk, Iraq earlier this year. Domiz, originally constructed to accommodate 15,000 Syrian refugees, is currently overcrowded with more than 55,000 residents

UNHCR oversees aid to more than 1.9 million Syrian refugees in neighbouring countries.

For media inquiries:
Amman, Jordan: Peter Kessler: mob. +962-79-631-7901
Geneva, Switzerland: Adrian Edwards: mob.+ 41-79-557-9120
Dubai, UAE: Mohammed Abu Asaker: mob. +971-50-621-3552
UNHCR country pages
You can help save the lives of thousands of refugees
Forced to grow up too soon in Lebanon: Mahmoud
Mahmoud,15, hasn't been to school in 3 years. In his native Syria, his parents were afraid to send him because of the civil war. They ended up fleeing a year ago when, in the early morning hours, a bomb fell on a nearby house. The family, still groggy from being jolted awake, grabbed what they could and fled to Lebanon. Their home and the local school have since been destroyed.
In Lebanon, Mahmoud's father is unable to find work and now the family can barely afford rent.
A month ago, Mahmoud started working for tips cleaning fish at a small shop next to his home. He makes about $60 USD a month. With this money he helps pay rent on his family's tiny underground room, shared between his parents and eight brothers and sisters. Mahmoud is proud to help his family but with the fish shop located in the same subterranean structure as his home, he barely goes out into the sunshine.
Children like Mahmoud, some as young as seven, often work long hours for little pay, and in some cases in dangerous conditions. These children forfeit their future by missing out on an education and the carefree years of childhood. Many are also traumatized by what they witnessed back in Syria.
UNHCR and its partners together with local governments are providing financial assistance to help vulnerable Syrian refugee families cover expenses like rent and medical care, which means there is less need to pull children out of school and put them to work. UN agencies and their partners have also established case management and referral systems in Jordan and Lebanon to identify children at risk and refer them to the appropriate services.
Forced to grow up too soon in Lebanon: Mahmoud
Lebanese Town Opens its Doors to Newly Arrived Syrian Refugees
Fresh fighting in Syria has driven thousands of refugees across the border into eastern Lebanon's Bekaa Valley over the past week. An estimated 6,000 people were forced from their homes by the fighting around Qarah and the Qalamoun region of western Syria. The desperate civilians crossed the mountains and made their way to the town of Arsal in Lebanon. Most of the refugees were already internally displaced in Syria, some as many as half a dozen times, before finally being forced out of the country. Some 80 per cent of the new arrivals were originally from the Syrian city of Homs. The refugees are arriving in a desolate and impoverished part of Lebanon that has seen its peacetime population grow by 50 per cent since the Syria crisis began in March 2011. Harsh early winter conditions are making matters worse. UNHCR and its partners have found temporary shelter in Arsal for the new arrivals in a wedding hall and a mosque. They are handing out blankets, food packages as well as kitchen and hygiene sets. A new transit site is also being built until better shelter can be found elsewhere in the country. The following images were taken in Arsal by Marc Hofer.
Lebanese Town Opens its Doors to Newly Arrived Syrian Refugees
Kuwaiti Funds Provide Vital Medical Aid for Syrians in Lebanon
As the number of Syrian refugees in Lebanon continues to grow, ensuring access to quality health care is becoming an increasing challenge for humanitarian aid groups and the international community. So, Kuwait's unprecedented donation in April of US$110 million for UNHCR's Syria crisis operations this year came at a most opportune time. Slightly more than 40 per cent of the amount has been used to fund programmes in Lebanon, including the provision of vital - and often life-saving - medical care. In the following photo gallery, photographer Shawn Baldwin looks at the essential work being done in just one Kuwaiti-supported clinic in northern Lebanon. The small Al Nahda Primary Health Care Clinic in the town of Beddawi has a staff of seven doctors and one nurse. Between 600 and 700 people seek medical attention there every month and the clinic meets the needs of some of the most vulnerable refugees.
Kuwaiti Funds Provide Vital Medical Aid for Syrians in Lebanon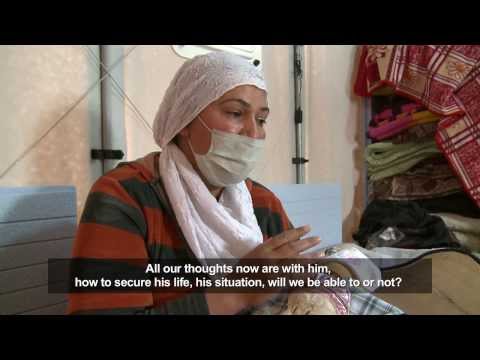 Iraq: Innovation & Refugee Shelter
The IKEA Foundation is funding the development of durable and easy-to-assemble shelters for refugees. Syrians in northern Iraq have been among the first to try them out.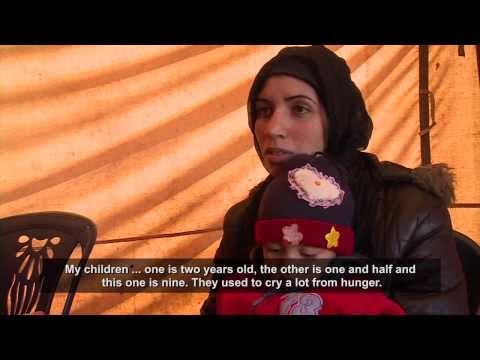 Lebanon: Rush to Arsal
The bombardment of the Syrian city of Yabroud has driven thousands of refugees across the mountains into the Lebanese town of Arsal. UNHCR and its partners, including Lebanese NGOs, are working to find shelter for the newly arrived.