Thousands of

Syrian refugees stream into Iraq

Press Releases, 18 August 2013

Thousands of Syrian refugees have been streaming into northern Iraq today (Sunday) moving in a wave of people loaded down with their belongings.

"Authorities at the Sahela border crossing report that more than 5,000 Syrians have arrived and many more are headed to the frontier," said Claire Bourgeois, UNHCR Representative in Iraq. "UN refugee agency staff at Sahela today report what appears like a river of people coming towards the border."

"The number of people moving across the frontier today is quite significant," Bourgeois declared. "UNHCR is witnessing a major exodus from Syria over the past few days unlike anything we have witnessed entering Iraq previously."

On Saturday, more than 10,000 Syrians streamed across the Peshkhabour bridge over the Tigris River, north of the Sahela crossing, as people continued to flee areas in northern Syria stretching from northwest of Aleppo eastwards. Many refugees said they were fleeing fighting involving various armed groups and increasing tension in areas of northern Syria including Efrin, Aleppo, Hassake and Qamishly.

UNHCR estimates that more than 15,000 Syrians crossed into Iraq on Thursday and Saturday at the Peshkhabour pontoon bridge over the Tigris River.

The on-going exodus adds sharply to the number of Syrians in Iraq. Prior to Thursday some 154,000 Syrians had registered as refugees in Iraq.

UNHCR and its partners have erected shelters with plastic tarpaulins at both the Sahela and Peshkhabour crossings to protect fleeing Syrians from the sun and heat while they await transport from the border using a fleet of hundreds of vehicles organized by the International Organisation for Migration and the Kurdistan Regional Government. Together with the authorities and its NGO partners, UNHCR is distributing water and food to the new arrivals.

UNHCR has sent 37 trucks loaded with relief items and sanitary supplies including tents, mattresses, jerry cans, tarpaulins, blankets, hygienic kits, kitchen sets, stoves, water tanks, latrines, showers and electric fans to help the new arrivals.

"UNHCR is grateful for the close cooperation and support of the Iraqi Government and the Kurdistan Regional Government in opening the border and assisting these new arrivals," said UNHCR's Claire Bourgeois.

Aid workers reported desperate scenes amidst the summer heat as families swarmed across the pontoon bridge at Peshkhabour on Saturday. Prior to last Thursday's arrivals, Iraq's border with Syria had been sharply regulated since mid-May, aside from some 700 Syrians who were allowed to cross on 15th July for medical reasons and to rejoin relatives.

In conjunction with regional authorities, UNHCR has opened a transit site at Kawergost town, near Khabat in Erbil Governorate. Some 7,000 Syrian refugees are currently encamped at the transit site. Some 600 tents have been erected at the transit area and a further 250 tents are planned.

Kurdish Regional Government authorities have transferred 4,000 of the new arrivals to a school in Sulemaniyah Governorate further eastwards where another temporary transit site is under construction. Others are being accommodated with relatives or in mosques.

In cooperation with the Kurdish Regional Government, UNHCR and its partners are building Darashakran camp, which is expected to begin accommodating refugees by the end of August. UNHCR built Domiz refugee camp near Dohuk, Iraq earlier this year. Domiz, originally constructed to accommodate 15,000 Syrian refugees, is currently overcrowded with more than 55,000 residents

UNHCR oversees aid to more than 1.9 million Syrian refugees in neighbouring countries.

For media inquiries:
Amman, Jordan: Peter Kessler: mob. +962-79-631-7901
Geneva, Switzerland: Adrian Edwards: mob.+ 41-79-557-9120
Dubai, UAE: Mohammed Abu Asaker: mob. +971-50-621-3552
UNHCR country pages
3 millions Syrians are refugees
Haunted by a sinking ship
Thamer and Thayer are two brothers from Syria who risked their lives in the hope of reaching Europe. The sea voyage was fraught with danger. But home had become a war zone.
Before the conflict, they led a simple life in a small, tight-knit community they describe as "serene". Syria offered them hope and a future. Then conflict broke out and they were among the millions forced to flee, eventually finding their way to Libya and making a desperate decision.
At a cost of US$ 2,000 each, they boarded a boat with over 200 others and set sail for Italy. They knew that capsizing was a very real possibility. But they hadn't expected bullets, fired by militiamen and puncturing their boat off the coast of Lampedusa.
As water licked their ankles, the brothers clung to one another in the chaos. "I saw my life flash before my eyes," recalls Thayer. "I saw my childhood. I saw people from when I was young. Things I thought I no longer remembered."
After ten terrifying hours, the boat capsized in the Mediterranean Sea, throwing occupants overboard. Rescue, when it finally came, was too late for many.
Theirs was the second of two deadly shipwrecks off the coast of Lampedusa last October. Claiming hundreds of lives, the disasters sparked a debate on asylum policy in Europe, leading Italian authorities to launch the Mare Nostrum search and rescue operation. To date, it has saved more than 80,000 people in distress at sea.
Eight months on, having applied for asylum in a sleepy coastal town in western Sicily, Thamer and Thayer are waiting to restart their lives.
"We want to make our own lives and move on," they explain.
Haunted by a sinking ship
A Teenager in Exile
Like fathers and sons everywhere, Fewaz and Malak sometimes struggle to coexist. A new haircut and a sly cigarette are all it takes to raise tensions in the cramped apartment they currently call home. But, despite this, a powerful bond holds them together: refugees from Syria, they have been stranded for almost a year in an impoverished neighbourhood of Athens.
They fled their home with the rest of the family in the summer of 2012, after war threw their previously peaceful life into turmoil. From Turkey, they made several perilous attempts to enter Greece.
Thirteen-year-old Malak was the first to make it through the Evros border crossing. But Fewaz, his wife and their two other children were not so lucky at sea, spending their life savings on treacherous voyages on the Mediterranean only to be turned back by the Greek coastguard.
Finally, on their sixth attempt, the rest of the family crossed over at Evros. While his wife and two children travelled on to Germany, Fewaz headed to Athens to be reunited with Malak.
"When I finally saw my dad in Athens, I was so happy that words can't describe," says Malak. However, the teenager is haunted by the possibility of losing his father again. "I am afraid that if my dad is taken, what will I do without him?"
Until the family can be reunited, Malak and his father are determined to stick together. The boy is learning to get by in Greek. And Fewaz is starting to get used to his son's haircut.
A Teenager in Exile
Jihan's Story
Like millions, 34-year-old Jihan was willing to risk everything in order to escape war-torn Syria and find safety for her family. Unlike most, she is blind.
Nine months ago, she fled Damascus with her husband, Ashraf, 35, who is also losing his sight. Together with their two sons, they made their way to Turkey, boarding a boat with 40 others and setting out on the Mediterranean Sea. They hoped the journey would take eight hours. There was no guarantee they would make it alive.
After a treacherous voyage that lasted 45 hours, the family finally arrived at a Greek island in the Aegean Sea, called Milos - miles off course. Without support or assistance, they had to find their own way to Athens.
The police detained them for four days upon their arrival. They were cautioned to stay out of Athens, as well as three other Greek cities, leaving them stranded.
By now destitute and exhausted, the family were forced to split up - with Ashraf continuing the journey northwards in search of asylum and Jihan taking their two sons to Lavrion, an informal settlement about an hour's drive from the Greek capital.
Today, Jihan can only wait to be reunited with her husband, who has since been granted asylum in Denmark. The single room she shares with her two sons, Ahmed, 5, and Mohammad, 7, is tiny, and she worries about their education. Without an urgent, highly complex corneal transplant, her left eye will close forever.
"We came here for a better life and to find people who might better understand our situation," she says, sadly. "I am so upset when I see how little they do [understand]."
Jihan's Story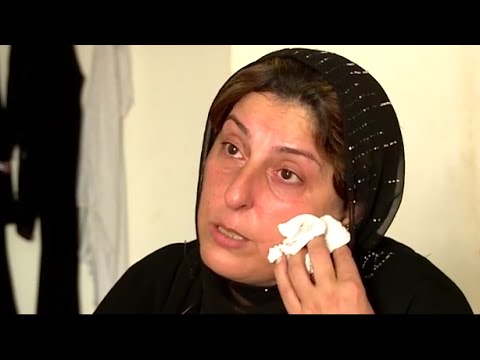 UNHCR: Syrian Refugee numbers top three million
The number of refugees in Syria's intensifying crisis passes 3 million people, amid reports of horrifying conditions inside the country. Iman and her family were displaced four times inside Syria before finally seeking refuge in Lebanon.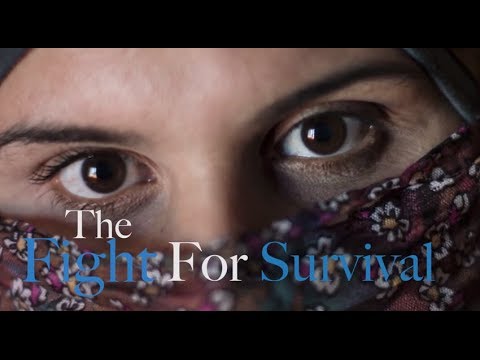 The Fight for Survival – Syrian Women Alone
Lina has not heard from her husband since he was detained in Syria two years ago. Now a refugee in Lebanon, she lives in a tented settlement with her seven children.