Thousands of

Syrian refugees stream into Iraq

Press Releases, 18 August 2013

Thousands of Syrian refugees have been streaming into northern Iraq today (Sunday) moving in a wave of people loaded down with their belongings.

"Authorities at the Sahela border crossing report that more than 5,000 Syrians have arrived and many more are headed to the frontier," said Claire Bourgeois, UNHCR Representative in Iraq. "UN refugee agency staff at Sahela today report what appears like a river of people coming towards the border."

"The number of people moving across the frontier today is quite significant," Bourgeois declared. "UNHCR is witnessing a major exodus from Syria over the past few days unlike anything we have witnessed entering Iraq previously."

On Saturday, more than 10,000 Syrians streamed across the Peshkhabour bridge over the Tigris River, north of the Sahela crossing, as people continued to flee areas in northern Syria stretching from northwest of Aleppo eastwards. Many refugees said they were fleeing fighting involving various armed groups and increasing tension in areas of northern Syria including Efrin, Aleppo, Hassake and Qamishly.

UNHCR estimates that more than 15,000 Syrians crossed into Iraq on Thursday and Saturday at the Peshkhabour pontoon bridge over the Tigris River.

The on-going exodus adds sharply to the number of Syrians in Iraq. Prior to Thursday some 154,000 Syrians had registered as refugees in Iraq.

UNHCR and its partners have erected shelters with plastic tarpaulins at both the Sahela and Peshkhabour crossings to protect fleeing Syrians from the sun and heat while they await transport from the border using a fleet of hundreds of vehicles organized by the International Organisation for Migration and the Kurdistan Regional Government. Together with the authorities and its NGO partners, UNHCR is distributing water and food to the new arrivals.

UNHCR has sent 37 trucks loaded with relief items and sanitary supplies including tents, mattresses, jerry cans, tarpaulins, blankets, hygienic kits, kitchen sets, stoves, water tanks, latrines, showers and electric fans to help the new arrivals.

"UNHCR is grateful for the close cooperation and support of the Iraqi Government and the Kurdistan Regional Government in opening the border and assisting these new arrivals," said UNHCR's Claire Bourgeois.

Aid workers reported desperate scenes amidst the summer heat as families swarmed across the pontoon bridge at Peshkhabour on Saturday. Prior to last Thursday's arrivals, Iraq's border with Syria had been sharply regulated since mid-May, aside from some 700 Syrians who were allowed to cross on 15th July for medical reasons and to rejoin relatives.

In conjunction with regional authorities, UNHCR has opened a transit site at Kawergost town, near Khabat in Erbil Governorate. Some 7,000 Syrian refugees are currently encamped at the transit site. Some 600 tents have been erected at the transit area and a further 250 tents are planned.

Kurdish Regional Government authorities have transferred 4,000 of the new arrivals to a school in Sulemaniyah Governorate further eastwards where another temporary transit site is under construction. Others are being accommodated with relatives or in mosques.

In cooperation with the Kurdish Regional Government, UNHCR and its partners are building Darashakran camp, which is expected to begin accommodating refugees by the end of August. UNHCR built Domiz refugee camp near Dohuk, Iraq earlier this year. Domiz, originally constructed to accommodate 15,000 Syrian refugees, is currently overcrowded with more than 55,000 residents

UNHCR oversees aid to more than 1.9 million Syrian refugees in neighbouring countries.

For media inquiries:
Amman, Jordan: Peter Kessler: mob. +962-79-631-7901
Geneva, Switzerland: Adrian Edwards: mob.+ 41-79-557-9120
Dubai, UAE: Mohammed Abu Asaker: mob. +971-50-621-3552
UNHCR country pages
The Charcoal Boys: Child Labour in Lebanon
Bebnine is one of many small towns in northern Lebanon that have seen an influx of Syrian refugees in recent months. Many of the new residents are children, whose education has been disrupted. A lot of them must work to support their families instead of studying to lay the foundations for a bright future. This set of photographs by Andrew McConnell, documents one group of boys who risk their health by working for a charcoal seller in Bebnine. Aged between 11 and 15 years old, they earn the equivalent of less than 70 US cents an hour filling, weighing and carrying sacks of charcoal. It's hard work and after an average eight-hour day they are covered in charcoal dust. Throughout the region, an estimated one in ten Syrian refugee children is engaged in child labour.
The Charcoal Boys: Child Labour in Lebanon
For Starters, a Tent: A Syrian Teacher Opens a School in Jordan
In the semi-rural area of Kherbet Al-Souk, on the outskirts of Amman, Syrian refugees struggling to get their children into crowded state schools have taken matters into their own hands. They have set up a simple school in their small informal settlement of about 500 refugees. The families had lived in Za'atri or Al-Aghwar camps, but moved out to be closer to other relatives and to access basic services in the capital. But ensuring education for all refugee children in Jordan has proved difficult for the government and its partners, including UNHCR. According to the UN, more than half of all Syrian refugee children in Jordan are not in school. In Kherbet Al-Souk, the refugee-run school consists of a large tent where the students sit on the ground with their text books. All of the students take classes together with the younger children in the front. Before, they spent a lot of time playing, but they were not learning anything. One refugee, Jamal, decided to do something about it. Photographer Shawn Baldwin met Jamal and visited the school in a tent. These are some of the images he took.
For Starters, a Tent: A Syrian Teacher Opens a School in Jordan
A Face in a Million: the Struggle of Syria's Refugees in Lebanon
They are everywhere in Lebanon - 1 million Syrian refugees, in a land of 4.8 million people. There are no refugee camps in Lebanon. Instead, most rent apartments and others live in makeshift shelters and in garages, factories and prisons. Three years after the Syria crisis began, Lebanon has become the country with the highest concentration per capita of refugees in the world. It's struggling to keep pace with the influx. Rents have spiked, accommodation is scarce; food prices are rising. Meanwhile, a generation could be lost. Half of Syria's refugees are children; most don't go to school. Instead many of them work to help their families survive. Some marry early, others must beg to make a bit of money. Yet they share the same dream of getting an education.
In the northern city of Tripoli, many of the Syrians live in Al Tanak district, dubbed "Tin City." Long home to poor locals, it is now a surreal suburb - garbage piled to one side, a Ferris wheel on the other. The inhabitants share their dwellings with rats. "They're as big as cats," said one. "They're not scared of us, we're scared of them."
Award-winning photojournalist Lynsey Addario visited Tin City and other areas of Lebanon with UNHCR to show the faces and suffering of Syrians to the world. Addario, in publications such as The New York Times and National Geographic, has highlighted the victims of conflict and rights abuse around the world, particularly women.
A Face in a Million: the Struggle of Syria's Refugees in Lebanon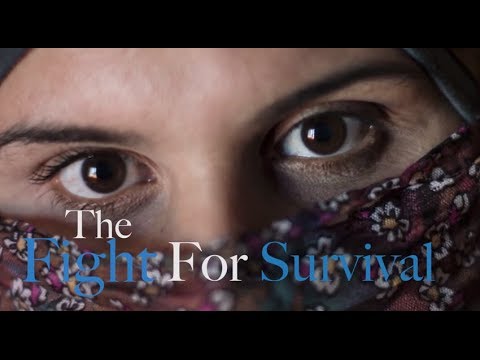 The Fight for Survival – Syrian Women Alone
Lina has not heard from her husband since he was detained in Syria two years ago. Now a refugee in Lebanon, she lives in a tented settlement with her seven children.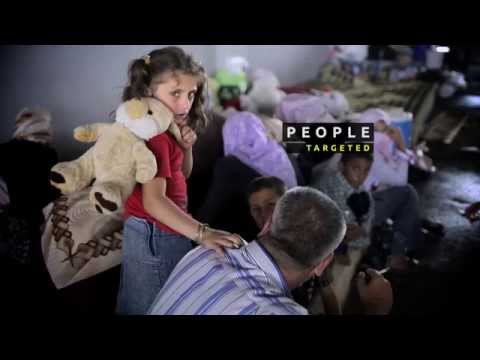 Syria: A Heartbreaking Human Tragedy
As the conflict in Syria grinds on, UNHCR and its partners are calling on donors to dig deep to help refugees and host communities.