UNHCR chief visits Mogadishu, expresses solidarity with Somali people on eve of Ramadan
With parts of Somalia showing signs of increasing stability, countries hosting Somali refugees are considering the potential to encourage refugees to return.
MOGADISHU, Somalia, July 9 (UNHCR) - UN High Commissioner for Refugees Antόnio Guterres visited the Somali capital today to support continued progress toward peace in a country torn by more than two decades of conflict. His visit was timed to coincide with the eve of Ramadan to express his solidarity with a population that, he said, "has suffered on a scale that is beyond measurement."
Inside Somalia, there are an estimated 1.1 million people still displaced from their homes. More than 1 million more are living in exile in neighbouring countries, mostly in Kenya, Ethiopia and Yemen, but also in significant numbers in Djibouti as well as in Europe, the United States and Australia.
With parts of Somalia showing signs of increasing stability, countries hosting Somali refugees are considering the potential to encourage refugees to return. Meanwhile, small numbers of Somalis have spontaneously taken the decision to move back to Mogadishu and other areas under government control.
"This is a moment of hope for the people of Somalia. UNHCR likes nothing more than to help people go back home, based on their own free will and when conditions are met for a safe and dignified return," Guterres said. "UNHCR will be working with Somalia and the host countries to be prepared when the time arrives and peace prevails."
At the same time, the security situation is fragile, particularly in central-south Somalia, where most of the refugees come from. Humanitarian access to most parts of this region is limited, hampering effective engagement with communities, delivery of humanitarian assistance and monitoring. The High Commissioner's visit comes barely three weeks after a deadly attack June 19 on the UN compound in Mogadishu.
Return to Somalia should be, first and foremost, voluntary," Guterres said. "At this time, the vast majority of Somalis in exile are still in need of asylum as conditions are not yet safe for a rushed, large-scale repatriation."
Guterres said all parties could work on a phased approach, assisting well-informed refugees who wish to return home and also facilitating limited group returns to specific areas considered safe.
In Mogadishu, the High Commissioner met Deputy Prime Minister Fawzia Yusuf H. Adam and Parliamentary Speaker Mohamed Osman Jawari as well as other senior government and UN officials. Adam highlighted the need to build new housing, health facilities and schools. Under these conditions, she said she was confident that "educated Somalis will come back and they will lift the country up. If peace comes back they will all come back."
Guterres also met with staff from UNHCR's Mogadishu office and expressed his condolences for UN colleagues who lost their lives in the June 19 attack. "We are stronger than ever, more determined than ever. We are here to stay," one national staff member, Ali Abdullahi, said. Staff Representative Zakaria Ibrahim added, "We are here for the people."
Meanwhile, Somalis continue to flee their country, albeit in smaller numbers than in recent years. In the first six months of 2013, some 21,000 Somali refugee arrivals were reported around the region compared to 78,000 in all of 2012 and 295,000 in 2011.
Most, almost 13,000 people, fled to Ethiopia, already host to some 240,000 Somali refugees. Yemen has received almost 6,000 new arrivals - most having made the dangerous trip across the Gulf of Aden. As of May, Yemen was hosting some 230,000 Somali refugees.
At least 20,000 people have crossed into Somalia from countries of asylum this year. About 12,000 are estimated to be actual refugee returns - the majority from Kenya, which hosts more than 490,000 Somali refugees. A number of these cross-border movements may be seasonal as refugees return to plant crops ahead of the rainy season.
Inside Somalia, UNHCR has helped more than 16,000 internally displaced people return voluntarily to their homes this year in areas of relative stability.
"The Somali situation will remain one of UNHCR's top priorities," Guterres said. "I hope peace will create the conditions inside Somalia to do what every refugee wants - to go back home."
By Melissa Fleming in Mogadishu, Somalia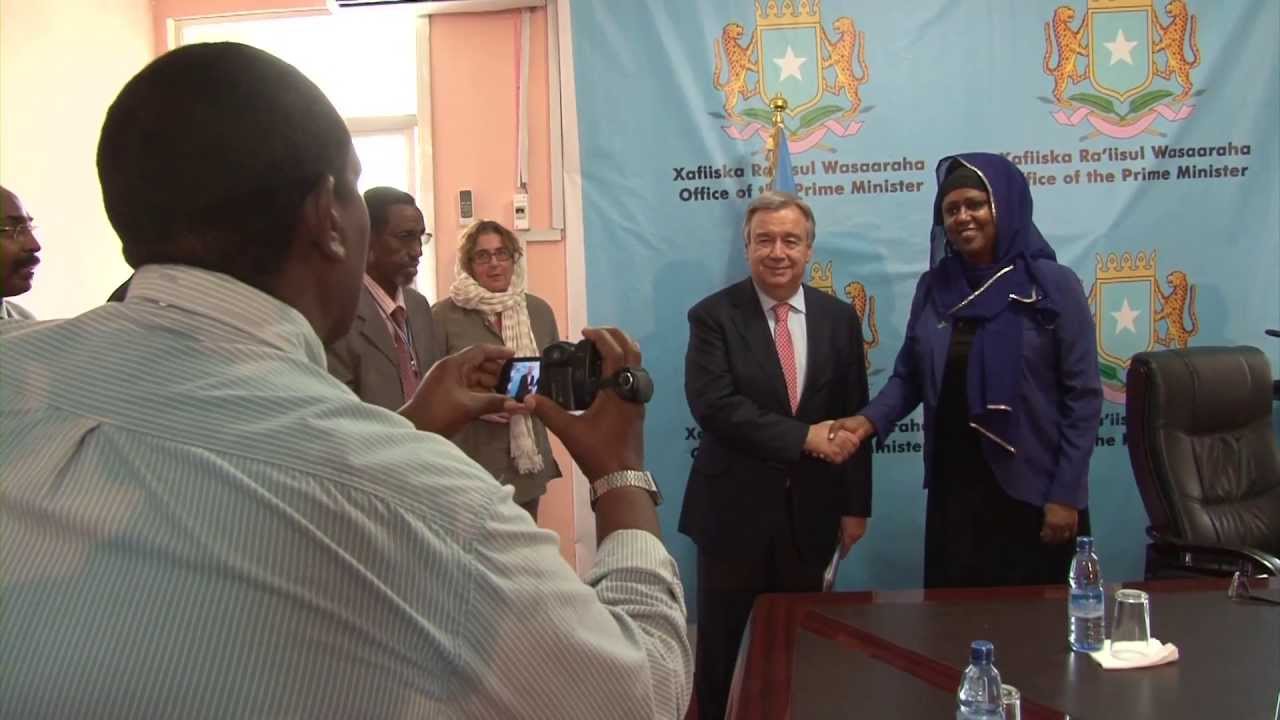 Somalia: UN High Commissioner For Refugees In Mogadishu